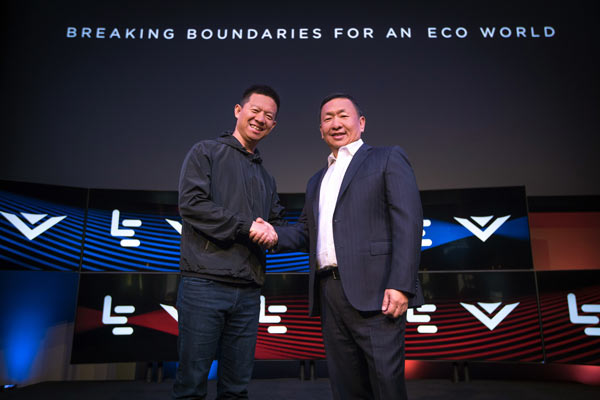 LeEco CEO Jia Yueting, left, and Vizio Inc CEO William Wang shake hands at a news conference in Los Angeles, where it was announced that LeEco had acquired Vizio for $2 billion. [Photo/Agencies]
In the late 1980s, Japan had over-inflated stock and property markets. Its companies, fleeing the lack of opportunities in Japan itself, vastly overpaid for all manner of US assets. I often dreamed that some Japanese investor would overpay for the house I owned at the time.
The rate of Chinese companies making overseas investments has more than doubled since last year. They often have a business model designed to bring technology and foreign business practices to the huge domestic Chinese market-a much better-defined plan than the Japanese, who were mostly purely financial investors, ever did. But, still I worry that they are paying too much.
Let's take a look at a recent deal. Beijing-based LeEco Global Ltd announced last Tuesday that it agreed to pay $2 billion cash for Vizio Inc, a California-based manufacturer of inexpensive television sets and sound bars. This at a time when the dollar is high relative to the yuan. LeEco argued that Vizio will enable it to gain market share in the coming internet-of-things technology that links all kinds of smart products together. And, it certainly may turn out in that LeEco made a smart move in the long run. But, I still wonder about the pricing.
Vizio filed initial public offering papers with the US Securities and Exchange Commission in July of 2015, but never actually carried out the IPO. According to accounting data in the SEC filing, Vizio's profits were $44.96 million in 2014 and $31.35 million in the first half of 2015.
Since Vizio is privately held and decided not to go through with the IPO, subsequent data are not available. But these numbers imply a profit of roughly $56 million in 2015, assuming that Vizio makes slightly more than half of its profits in the first half, as it did in 2014. Vizio has not been a growth company-its sales and profits in 2014 were about the same as in 2010 and were lower in the years in between.
Vizio's business in the US is in brutally competitive markets. Most consumers in the US consider television sets to be almost undifferentiated commodities-they buy the cheapest one. Vizio has become the biggest-selling brand of TVs in the US by following a low-price strategy. But, this strategy leads to very low margins-profits have averaged less than 3 percent of sales.
Vizio's TVs are connected to the internet, so the company receives potentially valuable data on what shows its customers are watching. But, the company so far has not been able to reap profits from this information. In any case, William Wang, the current CEO and majority owner of Vizio, will retain 51 percent ownership of the Insight division, which will own this data.
The bottom line is that LeEco has agreed to pay about 35 times earnings for a producer of near-commodity products in a highly competitive business. This compares with Apple Inc, which currently trades for 11 times earnings, Google Inc at 30, and Samsung Electronics Co at 3.3.
If Vizio had completed its IPO and received 10 times earnings, which seems about right for a low-margin company, it would have had a market value of $600 million. Even at the current historically high average Dow Industrials price-to-earnings ratio of about 20, which is too high for a company in such a competitive market, Vizio would be worth $1.2 billion.
China Daily reported that Jia Yueting, founder and CEO of LeEco, said that the purchase of Vizio is part of a "big bang plan" to enter the US market.
It may get access to Vizio's distribution channels to sell its phones and other products-but, Vizio sells its TVs through big box stores, such as Best Buy Co Inc, which insist on paying low-margin prices to their suppliers.
It may be able to use its LeEco system to add value to the TVs, but Vizio made its name through low prices-proving that customers are reluctant to pay more for sophisticated TVs. Just about every merger or acquisition is justified on the basis of "synergies", but few actually pay off.
Companies spending their own money have more incentive to get it right than does an outside analyst like myself. But, I do hope the current wave of Chinese companies going-out are not paying too much.