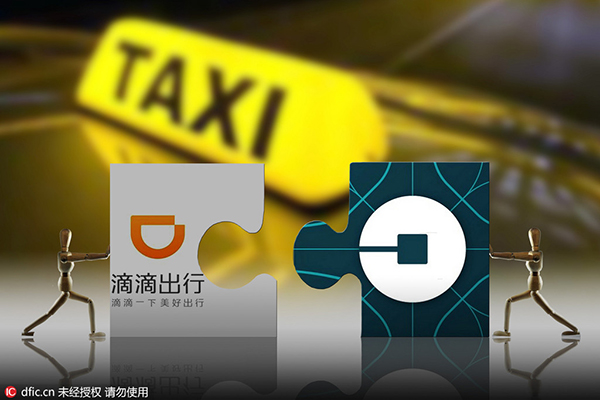 Beijing-based Didi, the dominant ride-hailing service provider in China, said in a statement on August 1, 2016 that it will buy Uber's China operation. [Photo/IC]
Didi Chuxing and Uber China may not have an easy victory in China, even though their newly announced merger is expected by analysts to create a dominant player in the country's rapidly growing ride-hailing market.
Under the deal, Didi will acquire Uber China while Uber Technologies Inc and Uber China's other shareholders will receive a 20 percent shareholding in the combined company.
Yongche Inc, which has immediately become the No 2 ride-hailing player in China after the tie-up between Didi and Uber, said on Tuesday that it will soon launch a very lucrative incentive program to gear up the competition in attracting users.
Without revealing how much it is going to invest in the program, Yongche, which is majority-owned by the Beijing-based internet major LeEco, said the incentive investment will be "record high".
"The ride-sharing industry doesn't need a monopoly and there will be no place for monopolists to stand in the industry," said LeEco in a Weibo post.
Many industry observers said the main reason for the truce between Didi and Uber China was that the two wanted to end their costly competition. Uber has spent at least $1 billion a year to gain ground in China, while Didi has been offering its own subsidies to drivers and riders to build its business.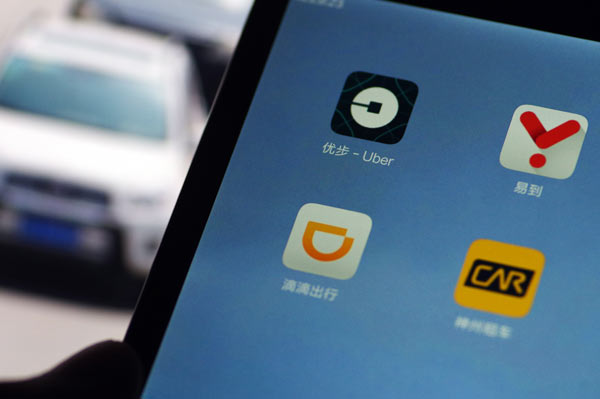 A mobile screen shows the logos of ride-hailing apps including Didichuxing, Uber, Yongche and UCAR. [Photo/VCG]
Wang Xiaofeng, an analyst at Forrester Research Inc, said the merger of Didi and Uber China could provide more opportunities to second-tier players in the market.
"Because consumers will always want more options and it will never be a monopoly. For example, the Didi-Kuaidi merger gave room for the third player Uber to grow, and this merger will likewise do the same for smaller players," she said.
However, Zhang Xu, analyst with Analysys International, said that with Didi and Uber China joining hands, it would be more difficult for smaller players to gain more market share.
Statistics from internet consultancy Analysys International showed that Didi had 127 million active users by the end of second quarter of the year, while Uber China had 31.07 million and Yongche had 10.5 million in same period.
But the Didi and Uber China merger still needs the authorities' approval.
The Ministry of Commerce said on Tuesday it hasn't received a business declaration from Didi and Uber though both companies announced their merger on Monday.
All businesses with a large scale of operations that may monopolize a market must submit a business declaration to the Ministry of Commerce, as well as wait for an antitrust investigation.
Companies without such clearance will not be allowed to carry out a merger and acquisition in China.
Shen Danyang, the ministry's spokesman, said as these two companies haven't submitted a business declaration to the ministry, their merger will not become effective and legal.
Didi Chuxing and its previous rival Kuaidi also didn't submit business declaration to the ministry when they merged last year, according to the ministry.
Didi was not available for comment on Tuesday.