The government deficit for 2016 is projected to be 2.18 trillion yuan ($335 billion), an increase of 560 billion yuan over last year, Premier Li Keqiang earlier said in this year's government work report. China also raised its 2016 deficit target to 3 percent of GDP, in an effort to bolster government spending and ease enterprises' tax burden.
In terms of reducing taxes and fees, the State Council has held several meetings to discuss related strategic planning. Let's take a look at a list of measures taken to reduce taxes and fees so far this year.
1. Value-added tax reform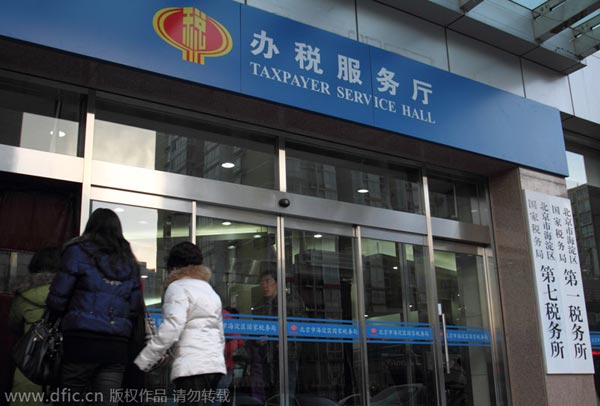 People enter a taxpayer service hall in Beijing, Dec 13, 2010. [Photo/IC]
A business tax to value-added tax pilot began with transportation and certain service industries in Shanghai in 2012, and has been gradually expanded to cover more sectors and areas.
Beginning May 1, the government extended the policy to cover the construction, real estate, finance and consumer services sectors. They were the last four sectors still taxed based on their revenue.
Nationwide, the country expects the reform to save businesses 500 billion yuan ($74.9 billion) in 2016, the State Administration of Taxation estimated.