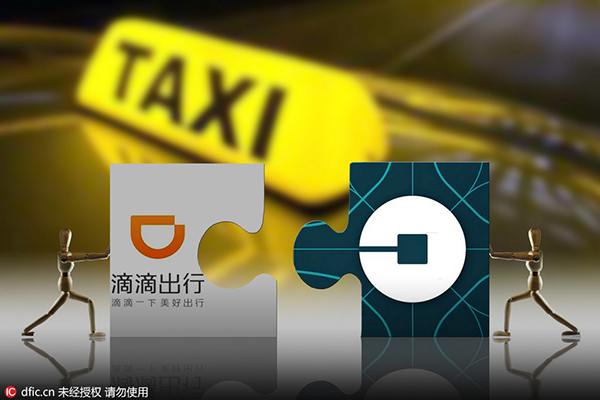 Beijing-based Didi, the dominant ride-hailing service provider in China, said in a statement on Monday that it will buy Uber's China operation. [Photo/IC]
The Ministry of Commerce said it hasn't received business declaration from Didi Chuxing and Uber Technologies Inc though both companies announced merger Monday.
Under the deal, Didi Chuxing agreed to acquire the China business of its rival Uber Technologies Inc.
All businesses with large operation scale that may monopolize the market must submit business declaration to the Ministry of Commerce for record, as well as wait for further anti-trust investigation. Companies without such clearance will not be allowed to carry out merger and acquisition in China.
Shen Danyang, the ministry's spokesman, said as these two companies haven't submitted business declaration to the ministry, their merger will not become effective and legal.
Didi Chuxing and its previous rival Kuaidi also didn't submit business declaration to the Ministry of Commerce when they merged last year, according to the ministry.