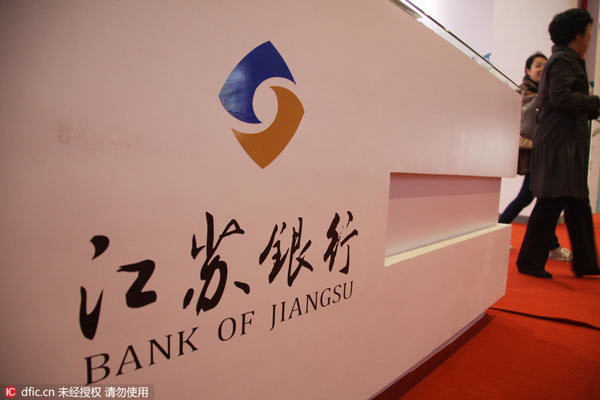 A logo of the Bank of Jiangsu is seen at an expo in Nantong, East China's Jiangsu province, April 13, 2013. [Photo/IC]
BEIJING - China's A share market saw the first initial public offering of a regional commercial bank on the Chinese mainland since the global financial crisis with the Shanghai-listed Bank of Jiangsu Tuesday.
It is also the first listing of bank shares in six years.
Some of the bank's 1.1 billion shares became tradable, bringing in more than seven billion yuan (about $1.05 billion) to expand its capital base, according to the bank's prospectus.
The stock, opening at 2.76 yuan, was off to a 44-percent surge to hit 9.03 yuan, and trading was temporarily halted by the Shanghai Stock Exchange.
Founded in 2007, the Bank of Jiangsu had total assets worth 1.29 trillion yuan after three years of cumulative growth of 70 percent by the end of last year, making it the country's third-largest municipal commercial bank.
It posted revenues of 28 billion yuan and a net profit of 9.5 billion yuan last year, ranking the 15th among the 17 banks listed in China's A-share market.
Regional banks have been vying to go public in recent years as they seek to raise funds to improve their capital adequacy ratios and reach the required supplementary capital level due to rising bad loans.
The Bank of Jiangsu had a core tier 1 capital adequacy ratio of 8.63 percent and a non-performing loan ratio of 1.43 percent.
Chinadive Watersports Inc and Jafron Biomedical Co Ltd, two other companies that went public at the Shanghai bourse Tuesday, also saw their trading soar by some 44 percent.