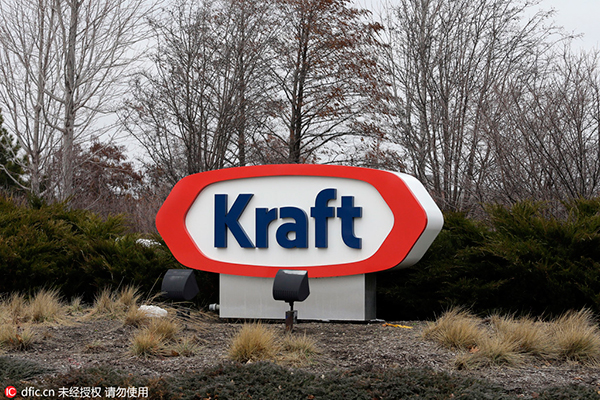 The Kraft logo appears outside of the headquarters in Northfield, the US, March 25, 2015. [Photo/IC]
Kraft Heinz Company, the world's fifth-largest food and beverage company, introduced its iconic Planters brand to China amid rising interests from Chinese customers on imported foods.
With Chinese buyers having developed huge interests on online shopping, Planters are currently available on some popular online Chinese platforms such as JD.com, according to the company.
"We will launch more sales channels including supermarkets to allow Chinese buyers to have better access to the iconic international brand," said managing director of Kraft Heinz China Ze Dias.
According to Dias, the company also plans to introduce more brands to the Chinese market.
"We will take market trends and customer demands into consideration when launching new products in the Chinese market," said Dias.
Iconic brands of the company, which was integrated between Kraft and Heinz in July last year, include Kraft, Heinz, ABC, Capri Sun, Classico, Jell-O, Kool-Aid, Lunchables, Maxwell House, Ore-Ida, Oscar Mayer, Philadelphia, Planters, Plasmon, Quero, Weight Watchers Smart Ones and Velveeta.
Planters, which has a history of more than 110 years, is sold in 73 countries and regions, with annual sales reaching over $1 billion, according to the company.
"China's burgeoning e-commerce business has laid a solid foundation for us to expand the brand to the growing market," said Diaz.