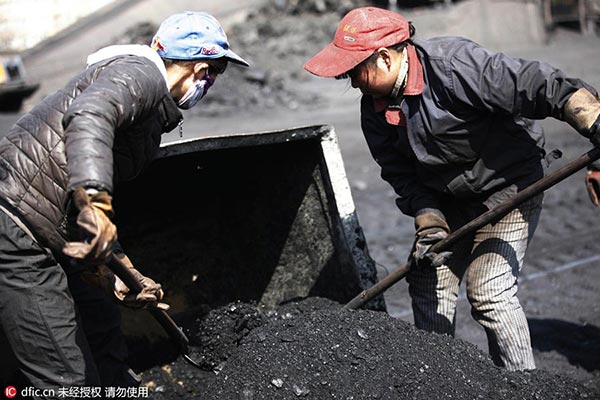 Female coal miners work at the Huaibei mine, East China's Anhui province, March 24, 2016. [Photo/IC]
BEIJING - China's top economic planner said on Monday that the country has made progress in reducing excess coal capacity by advancing economic structural reform.
Coal output declined 9.7 percent year on year to reach 1.63 billion tons in the first half of 2016, widening from a 5.8-percent drop recorded in the same period last year, said the National Development and Reform Commission (NDRC) on its website.
Coal enterprises and major electric power plants saw their coal stockpiles drop as of the end of June, down 8.6 percent and 16.6 percent, respectively, according to the NDRC.
The decline in coal stocks resulted in a narrowed decline for major coal business profits, reaching 3.5 billion yuan ($525 million) in the first five months, down 73.2 percent year on year, compared with a 92.5-percent drop in the first quarter.
The NDRC attributed the progress to the government's continued efforts in reducing production output, eliminating outdated capacity and promoting mergers, reorganization, and industry upgrades.
Meanwhile, coal consumption nationwide edged down 5.1 percent year on year to reach 1.82 billion tons in H1, according to the NDRC.
China is the world's largest producer and consumer of steel and coal. The two industries have long been plagued by overcapacity and felt the pinch even more in the past two years as the economy cooled and demand has fallen.
The Chinese government made reducing excess capacity a top priority in late 2015 at the Central Economic Work Conference and put it at the center of the 13th Five-Year Plan.
China plans to cut steel and coal capacity by about 10 percent -- as much as 150 million tons of steel and half a billion tons of coal -- in the next few years, with funds set aside to help displaced workers.