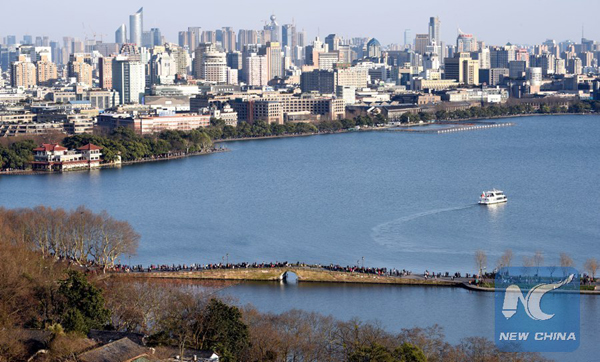 File photo taken on April 27, 2016 shows an aerial view of the West Lake in Hangzhou, East China's Zhejiang province. Hangzhou is the host city for the 2016 G20 summit on Sept 4 and Sept 5. With one month to go, Hangzhou looks forward to G20. [Photo/Xinhua]
BRUSSELS - The upcoming G20 summit in China in September is very important, and the most important objective that can be achieved is to try to understand China better and to understand the strategic choice of China, said Luigi Gambardella, president of ChinaEU, a business-led association aimed at intensifying business cooperation and investment in the telecom and hi-tech spheres.
In a recent interview, Gambardella told Xinhua that now the world was facing several common challenges, and in the meantime, China will become a leading party in many sectors of the global arena.
"So far there is lack of understanding of China, and I hope the leaders (who will attend the summit) should extend sincerity to understand China," he said.
Gambardella said that China is the answer to the world. Therefore, to understand China can contribute to global peace and growth.
"I hope all the leaders should be more constructive, and try to bring more cooperation," he said.
To understand China will also help other parties to assess or check what contributions China has done to the G20 mechanism, he said, adding that China has made big efforts in giving its own contribution to the G20, and what people need nowadays is to put more trust in China and recognize China's efforts.
Gambardella said that China clearly has an interest in playing a role as a country who wants to create peace, growth and prosperity.
In Gambardella's opinion, the Belt and Road Initiative is the most important example of way to show how China wants to build peace, favor the world growth, and make people have better life.
Moreover, regarding the world economic situation and the global governance, Gambardella thought that business can be part of the solutions to the common challenges.
He thought that many leaders underestimated the importance of the impact of technology on daily life. And the private sectors should be very well positioned to help the governments to deal with together the current changes and challenges.
For his part, he will also tour China's Nanjing and Hangzhou during the period of the G20 summit, during which he hoped to meet Chinese companies to increase dialogue and cooperation to favor the investment between Europe and China.
He said he was particularly interested in the start-up area, as there has been a start-up boom in China.
"The new silicon valley will be in China," he said, hoping that Europe and China will see more cooperation and closer links between young entrepreneurs, especially in fields of new technology.
He added that the Chinese in general are well prepared to know the West. Therefore, the Europe side should make efforts to know China better and to seize tremendous cooperative opportunities.
The G20 summit, to be held in Hangzhou in September, offers a platform for heads of state and government and central bankers to exchange views on macro-economic policy.
The theme of this year's summit -- "Toward an Innovative, Invigorated, Interconnected and Inclusive World Economy" -- vividly reflects the G20's efforts to fully let innovation inspire sustainable economic growth and overcome structural and institutional obstacles.