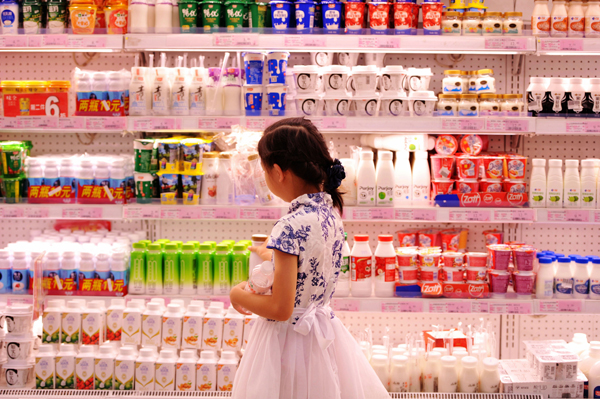 A girl chooses diary products at a supermarket in Qingdao, East China's Shandong province, August 9, 2016. [Photo/VCG]
BEIJING - Following eight years of tightened regulation and an industry overhaul, Chinese dairy products are emerging from the shadow cast by high-profile safety scandals, according to a report released Tuesday.
The quality of domestic milk products has improved substantially, according to a report from the Dairy Association of China (DAC). It was the first DAC report released to the public.
Official spot checks last year showed 99.5 percent of dairy products were up to standard and no illegal additives, such as melamine, had been detected for 7 consecutive years, the report said. Some major indicators, including nutrient content, exceeded the standards of the United States, Europe and Australia.
"Domestic milk products appear to be one of the safest foods in China," Wang Jiaqi, an official with the Ministry of Agriculture and researcher with the Chinese Academy of Agricultural Sciences, said during a press conference for the report's release.
China has been trying to regain the trust of the public, which had been bruised by scandals in recent years.
In 2008, infant formula produced by Sanlu Group, a leading dairy company, was found to contain melamine, killing six babies and leaving thousands seriously ill. Since then, more cases have been discovered, prompting Chinese consumers to turn to overseas milk products.
To revive the battered industry, Chinese authorities passed strict laws, tightened supervision, shut down unqualified dairy operations, encouraged industry consolidation, and increased policy support to improve milk quality.
Thanks to those measures, quality has improved greatly and the industry has expanded.
The country produced 38.7 million tonnes of milk products last year, or 4.8 percent of the world's total, ranking third after India and the United States, the report showed.
Per capita consumption of dairy reached 36.1 kilograms, up 5.9 kilograms from 2008.
Twenty major domestic dairy companies account for more than half of the total output and revenue of the whole industry.
The global reputation of the Chinese dairy industry is also on the rise. Industry giants Yili Group and Mengniu Dairy squeezed onto a 2015 list of the world's top 20 dairy companies published by Dutch banking and finance group Rabobank. Junlebao's baby formula earned the top quality and safety certificate from BRC Global Standards last year, and Modern Farming has won gold awards two years in a row from the Brussels-based Monde Selection, which judges food quality.
"China's dairy industry has seen dramatic changes," DAC vice president Gu Jicheng said.
Gu believes there is still much room for improvement, but Chinese companies will hopefully be able to face their global rivals in another eight to ten years.