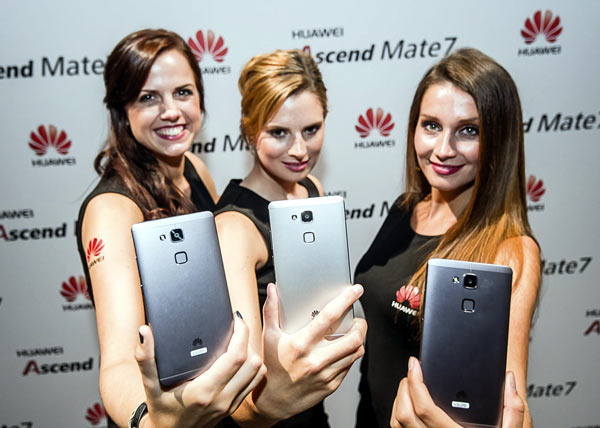 Models hold the Huawei Ascend Mate7 devices on September 4, 2014 at a launch event held in Berlin. [Photo/Agencies]
China's Huawei Technologies is undeterred by the merger of telecoms equipment rivals Nokia and Alcatel-Lucent and will keep growing in Europe, its rotating Chief Executive Guo Ping told Reuters on Thursday.
The merged European entity will become the global No 2 in wireless behind Sweden's Ericsson. It will also have a more complete product line encompassing both mobile and fixed-line operations, putting it in a stronger position to compete with Huawei, the leading telecoms equipment maker.
Finland's Nokia announced its acquisition of France's Alcatel-Lucent last month as it seeks to strengthen its position in telecoms equipment.
However, Huawei's Guo welcomed the deal, saying it would spur investment and competition, and expressed optimism about his company's ability to expand its own network gear business.
"The merged company will be much more competitive and for the industry as a whole this is a positive thing," he said.
"This is combining one company that is very strong in the wireless business with another company (that is) very strong in fixed networks."
Huawei expects lucrative opportunities for its network gear business as more people use smartphones, everyday objects are connected to the web and machines are linked to each other via the Internet, Guo added. He said there could be 100 billion new connections in the next ten years.
He also dismissed the effects of Huawei's exclusion from the United States over cybersecurity concerns, saying its global growth would not be stymied as a result.
"Without the US market Huawei will still be able to develop well," he said.
Huawei on Thursday announced plans for a new research institute at the European Business Summit (EBS) held in Brussels, signaling its intent to take part in Europe's race to be at the forefront of the next generation of mobile broadband technology.
In his speech to the EBS, Guo said the European Institute would strengthen cooperation with European industrial and academic circles to promote "Europe 4.0", "Digital Europe" and "smart growth" in Europe.
Located in Leuven, Belgium, the Huawei European Institute will coordinate research institutions of this Chinese equipment manufacturer in Europe. This is an initiative of Huawei in its overall innovation strategy.
Huawei currently has 18 research institutions in eight European countries, with more than 1,200 researchers, to address next-generation network technologies (5G).
The establishment of the institute represents the will of Huawei to expand its investment in Europe. Being in Europe since 2000, Huawei has created more than 9,900 jobs there last year. In 2014, Huawei had more than 200 technical cooperation projects in Europe, participated in 17 "Framework Programs" and the "Horizon 2020" of the European Union (EU).
The company's sales in Europe, the Middle East and Africa grew 20 percent last year to 101 billion yuan ($16.27 billion), far higher than all other regions apart from China, where sales grew 31 percent, the privately held company's published results said.