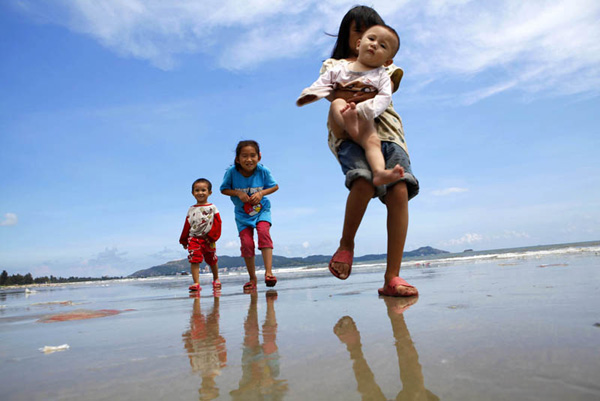 Children frolic on the beach in Huizhou city, South China's Guangdong province, July 14, 2014. [Photo/CFP]
The country is optimistic about meeting its energy and environment goals for 2015, the top economic planner said on Thursday as officials shed light on efforts to slash green house gas emissions.
Energy consumption per unit of GDP was cut by 5.6 percent in the first quarter compared with the same period last year, suggesting that the full-year target of 3.1 percent should be easily with in reach.
"We are relatively optimistic about fulfilling the full year's target," Zhang Yong, vice-chairman of the National Development and Reform Commission, said on Thursday.
However, he said efforts should not be relaxed as pressure caused by economic adjustment and lower prices for fossil fuels such as coal and oil could divert the attention of local governments and entrepreneurs away from saving energy.
The country will ensure it meets the 16 percent energy-saving goal for the 2011-15 period and may even exceed it, he said. Studies related to energy-saving targets and major projects in the 2016-20 period are underway.
Economic restructuring has been a major factor in the country's efforts to save energy. Investment in fuel-guzzling industries has been strictly controlled, said Zhou Dadi, a senior researcher at the commission's Energy Research Institute.
Changes to the economic structure have borne fruit. The service sector, which accounted for 51.6 percent of GDP in the first quarter, has outpaced the growth of the industrial sector.
"The country should maintain an ambitious energy-saving target of not less than 16 percent for the next five years," said Zhou.
Meanwhile, China is making preparations for the United Nations Climate Change Conference due to take place in Paris at the end of the year. It will submit its proposals for cutting green-house gas emissions, known as Intended Nationally Determined Contributions, to the UN by the end of next month, said Zhang.
INDCs state what post-2020 climate actions countries will take under a new international agreement. More than 190 countries are expected to reach an agreement in Paris that will limit the global temperature increase to 2C.
Janos Pasztor, the UN's assistant secretary-general on climate change, said in New York on Tuesday that 37 countries have submitted their INDCs.
Zhang said: "China's action plan is in tandem with energy-saving and emissions reduction efforts. We will earnestly implement our commitments to the international community."