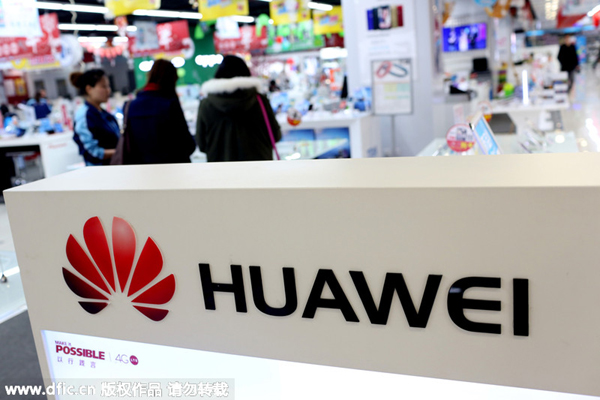 A counter of Huawei is seen at an electronic products market in Shanghai, Feb 17, 2015. [Photo/IC]
Editor's note: An increasing number of Chinese companies are emerging on the world stage as they strive to establish their brands outside the country. This report, the ninth in the series, is by Gao Yuan.
It took 30 years for the Guangdong city of Shenzhen, the nation's first special economic zone, to rise from a backwater to become one of the most vibrant economies.
Tens of thousands of enterprises in the electronics sector now call Shenzhen home.
Huawei Technologies Co Ltd is one of them. The company, now 28 years old, has had a growth trajectory similar to that of the city's own economic miracle.
The company, which long ago was an obscure electronics plant with registered capital of only 21,000 yuan ($3,430 at current exchange rates), is now a global giant that generates more than $46 billion in annual sales.
The executives of Huawei attribute its success to innovation, saying the company's long years of investment in research and development is finally paying off.
Yu Chengdong, senior vice-president of Huawei, said that R&D investment, equivalent to nearly 10 percent of annual revenue, has enabled Huawei to gain a technological edge over most of its competitors.
"The eight-core fourth-generation mobile chips we rolled out last year were a first for the industry. Designing a cutting-edge product like this requires deep collaboration among mathematicians, physicists and telecom experts," Yu said. "Research talent is a core advantage for us to enter the global stage."
Huawei's technologies are used in more than 150 4G networks around the globe, more than any other provider. Its major clients are from Europe and Asia.
Huawei entered the foreign market 16 years ago. Five years ago, it restructured its business units to improve its global business.
Guo Ping, rotating chief executive of Huawei, said: "We have 16 research centers globally so that we can take advantage of more international talent to upgrade our products. We hired Russians to write algorithms, French experts in product design, Japanese scientists to develop new materials.
"Each year, we have more than 10,000 graduates joining us as engineers...they will safeguard our competitiveness in the global market."