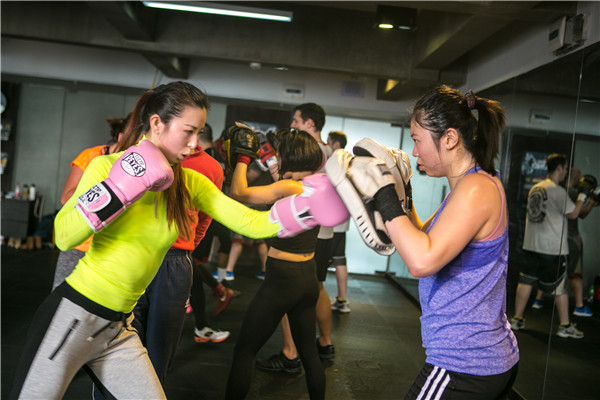 People practice in a boxing club. [Photo provided to chinadaily.com.cn]
The International Boxing Association (AIBA) and the sports offshoot of Alibaba Group Holding Ltd have agreed to set up a joint venture to spark the number of boxers and promote major events worldwide by leveraging the e-commerce giant's strength in internet technology and big data.
The AIBA and Alisports announced on Monday that the joint venture aims to raise global awareness of boxing and, thus, the value of all AIBA boxing competitions.
The announcement follows a memorandum of understanding inked by the two parties in January.
Shanghai-based Alisports said that total investment for the joint venture is about 500 million Swiss francs ($506.45 million).
No further details were released, as the two parties "will continue to work together in the coming weeks to implement the joint venture for the benefit of the AIBA boxing", said a joint statement on Monday.
Teaming up with the AIBA is Alisports' latest move in empire building.
Officially launched in September, Alisports has struck deals with a number of sports organizations, including the FIFA Club World Cup, the National Football League, Oceans Sports & Entertainment and World Rugby, to extend its reach in an increasingly diversified sports arena.
Many of the sports organizations are keen to reach potential fans.
And, Alibaba's e-commerce marketplaces gather valuable shopping data that can identify who likes to jog or play basketball.
Zhang Dazhong, chief executive officer of Alisports, said that the company's proven capacity to target hundreds of millions of clients via internet and e-commerce represents an immense opportunity to promote boxing.
"We are confident we can achieve global progress and advancement of the sport of boxing in the world through this unparalleled collaboration," he said.
The joint venture will see Alisports and the AIBA join forces on a wide range of areas-from the association's exclusive matches and events, to big-data mining, membership services and extended e-commerce product lines.
Jiang Qian, an analyst with Analysys International, a market research firm, said in a recent interview that whoever controls the intellectual property rights of sports events is the king of China's potentially huge sports industry.
The Chinese government wants the market to reach $800 billion in 2025 from the $62 billion it generated in 2015.
The cooperation is likely to start from Alisports' home turf of China, which saw the number of amateur and professional boxers grow 20-fold over the past five years, as estimated by Lin Fei, director of boxing division at the Shanghai-based SECA World, a sports agency that represents several Chinese professional boxers, including Zou Shiming the current WBO international flyweight champion.