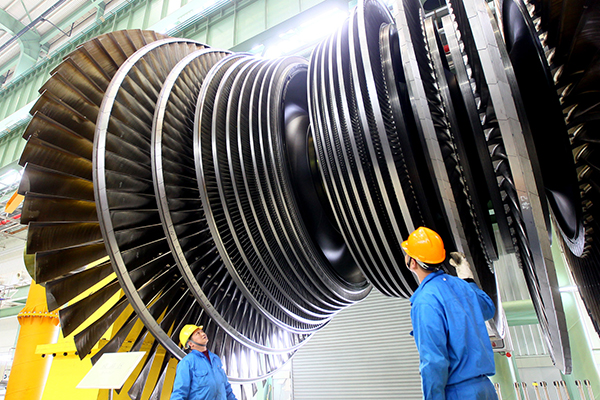 Two workers supervise the installation of key components of an indigenous nuclear reactor at a plant of Shanghai Electric Group, a leading manufacturer of heavy industrial equipment in China. [Photo/Xinhua]
Shanghai Electric, its units and JVs draw strength by boldly embracing change
For a corporate giant whose origins stretch back all the way to 1880, survival, change, renewal, transformation and such concepts may appear like part of its management ethos or DNA, if you will.
State-owned Shanghai Electric Group Co Ltd has seen, done and weathered them all. What, however, makes the conglomerate stand out from the corporate crowd is its penchant for innovation and upgradation. So is the company's commitment to the ambitious city cluster project of the Yangtze River Delta.
With several listed subsidiaries, the Shanghai Electric stable is known for its expertise in design and manufacture of equipment and machinery for various industries, including power generation, electricity transmission and distribution.
As the big boy of the pack, it is keen to set an example for others to follow. Towards that end, it has already mapped out a well-thought-out move from traditional energy equipment to clean energy and renewable energy equipment.
It started operating the 1,000-MW ultra-supercritical reheat thermal power unit in Taizhou in Jiangsu province last year. The project is the first of its kind in the country. Its generation efficiency has improved by 48 percent, making it better than the hitherto world's best.
"Technology innovation is the driving force of our company's development," said Huang Ou, vice-president of Shanghai Electric.
The Taizhou project ensured the technology China uses for generating fossil-fired electricity became safer, cleaner, more efficient and more reliable.
The company is exploring new overseas markets for technology exports, to make the most of the opportunities presented by the Belt and Road Initiative.
It has already exported its technology to India, Pakistan, and West Asian countries. Now, it's looking for opportunities in Europe and Africa, said Huang.
That's not all. Shanghai Electric is searching for that sweet spot where it could also do services without abandoning manufacturing.
It's a strategy that Shanghai Deputy Mayor Zhou Bo will likely appreciate.
Zhou believes the experience of Germany and Singapore during the 2008 global financial crisis shows that the services sector does not always buoy economies. In fact, under certain circumstances, over-reliance on services could prove counter-productive.
So, a metropolis like Shanghai cannot possibly embrace the fashionable services and shun manufacturing altogether. A goal has been set that manufacturing still needs to chip in 25 percent to the city's GDP during the 13th five-year plan period (2016-20).
So, Shanghai Electric, being key to the local economy, took to intelligent manufacturing, in tune with the times.
The compressor industry used to be labor-intensive. But as demographic changes reshaped China, Shanghai Electric found difficulty in hiring new hands. Worse, the cost of labor increased by 10 percent every year.
At the same time, the cost of robots declined by 5 percent annually. Since 2007, Shanghai Highly (Group) Co Ltd, a listed subsidiary, has been swearing by intelligent manufacturing. In 2010, the cost of robots equalled the cost of labor. Ever since, robots have been enjoying an edge over traditional workers.
By the end of 2015, Shanghai Highly had installed 480 industrial robots of various kinds, replacing some 357 production line jobs that required 999 workers.
Other benefits followed: the cycle for new product research has been shortened by 28 percent to 10 days. The product category has increased by 50 percent. Production efficiency has been enhanced by 44 percent. And the operation cost dropped by 21 percent.