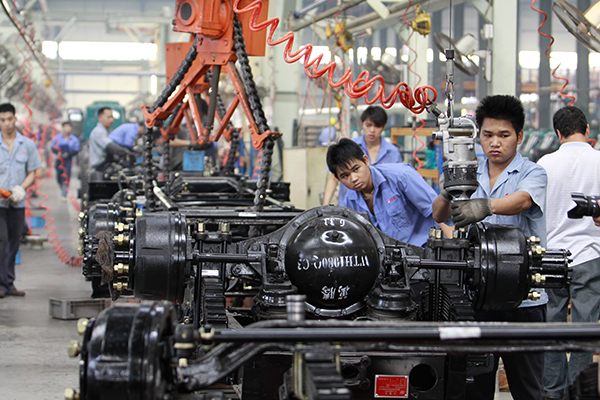 Workers on a motor vehicle production line at a factory in Qinzhou, Guangxi Zhuang autonomous region. [Photo provided to China Daily]
BEIJING - The manufacturing sector in China will receive more support as policymakers try to stabilize and restructure the economy.
Last week, three more plans were released to help the embattled sector, including encouraging technological innovation, such as intelligent machines, and funding for 10 major manufacturing projects, which will enhance competitiveness.
The country aims to achieve over seven-percent annual growth in the manufacturing sector during the 2016-2018 period, and hopes to attract 15 percent more corporate investment, which will support upgrades, during the period, according to the plans.
It also announced supportive policies for certain manufacturing industries, including ship-building, advanced equipment and general aviation.
Wu Qi, a researcher with China Minsheng Bank, said the support had been designed to shore up the traditional manufacturing sector while fostering new industries, providing better goods and services through supply-side structural reform.
These policies came after data showed that growth in China's industrial output had slowed to six percent in April, while exports and imports fell more than expected, underlining weak demand both at home and abroad.
More plans -- which will focus on software and information technology, big data, new materials, and energy-efficient and environmental-friendly industries -- are expected within the year, Xinhua-run newspaper Economic Information Daily reported Monday.
Improving the manufacturing sector is a pressing task for China, as its status as "the world's factory" has been undermined by developing nations, and it is looking to identify new engines of growth amid a slowing economy.
Moreover, rising labor costs, shrinking export demands and tighter resource and environmental constraints are weighing heavily on the manufacturing sector. It is facing pressure on two fronts: competition from mushrooming manufacturers in lower-cost developing countries and a renewed push by developed nations seeking an advantage in industrial manufacturing.
According to statistics from Oxford Economics, China's manufacturing labor cost was less than half of the United States in 2003, is now only slightly lower than the US level. However, China's manufacturing productivity, measured by output per employee, is less than one sixth of the US level.
To catch up, China last year announced the "Made in China 2025" campaign, a 10-year plan to upgrade its manufacturing capacity.
Lu Bingheng with the Chinese Academy of Sciences said compared with the United States and European nations, China still has a competitive edge because of the country's comprehensive industrial system, a huge market and a massive labor pool.
Upgrading of the manufacturing sector through industrial modernization will revitalize the sector and help sustain growth in the economy, Lu said.