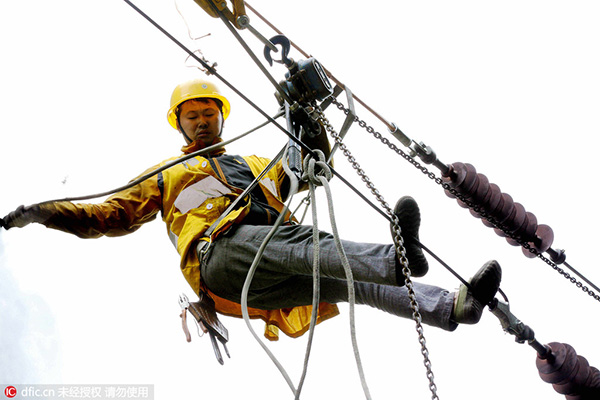 A worker changes a carrier cable along the Neijing-Kungming railway in Chengdu, Sichuan province, April 24, 2015. [Photo / IC]
China will likely see a moderation of economic growth rather than a notable slowdown for the rest of the year said Chetan Ahya, chief Asia economist at Morgan Stanley, on Tuesday.
The ongoing "mini-cycle" recovery is expected to continue for another three to four months before it moderates in August and September, Ahya said at a news conference in Beijing.
The US bank forecast China's capability of achieving an economic growth of 6.5 percent this year and the growth rate will moderate to 6.4 percent in 2017.
Ahya said that concerns about the sustainability and quality of the recovery remained.
"We are concerned about the deteriorating quality of the cyclical improvement as it has been mainly a government-led recovery in investment, exacerbating the structural problems of high debt, excess capacity and persistent disinflationary pressure," Ahya said.
Ahya said that the interest rate hike by the US Federal Reserve will be gradual and it will unlikely have a dramatic impact on the value of the renminbi.
"The Fed cannot afford to tighten so much that the US dollar appreciates to a level that it will have an adverse impact on the US growth."