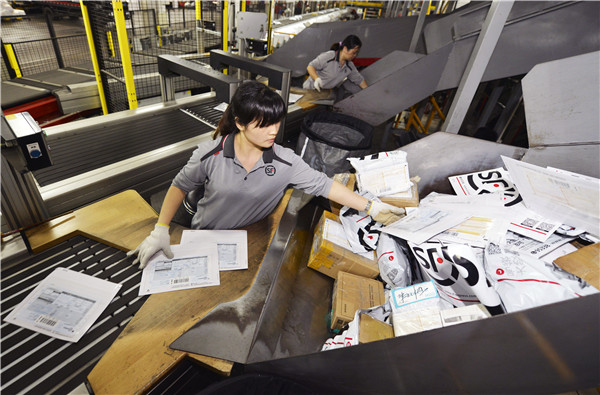 SF Express employees sort parcels at a distribution center in Shenzhen, Guangdong province.STEVEN WANG/CHINA DAILY
Rare-earth metals company Dingtai to be utilized in Shenzhen listing
SF Express, one of China's largest courier firms, is planning the reverse takeover of a rare-earth metals company, which will allow it a backdoor listing on the Shenzhen Stock Exchange.
The move came to light within a regulatory filing to the Shenzhen exchange by Maanshan Dingtai Rare Earth & New Materials Ltd, a little known Anhui-headquartered operation, and involves an asset swap and issuance of new shares.
If successful, the move - which values the eventual firm at 43.3 billion yuan ($6.6 billion) - will be the latest by a courier company seeking to leverage resources from the capital market.
SF Holdings, parent of SF Express, is named as the buyer, in what is described in the document as a plan to attract investors to fund its overseas expansion plans.
If the deal is approved by the China Securities Regulatory Commission, Dingtai will officially acquire SF Express, with the purchase funded by issuing new shares to the courier company.
Dingtai will be converted into a logistic company, controlled by SF Express Chairman and founder Wang Wei, according to the filing.
The 43.3-billion-yuan valuation would exceed the combined size of the two privately held Chinese couriers to reveal listing plans in recent months: YTO Express (17.5 billion yuan) and STO Express (16.9 billion yuan).
The filing describes the value as "reasonable", considering SF Express' current business model, market share and other performances indicators.
SF Holdings is known to be backed by leading private equity players including CITIC Capital Holding Ltd, Oriza Holdings, China Merchants Group and Jade Capital.
Shares in its intended shell company have been suspended from trading since April 5, according to the filing.
According to a research note by Minsheng Securities Co, SF Express is well ahead of its rivals in terms its infrastructure, talent pool, management model and most importantly, business model.
The logistics company is also expanding into other areas, such as payment and supply chain management, Minsheng said.
wuyiyao@chinadaily.com.cn