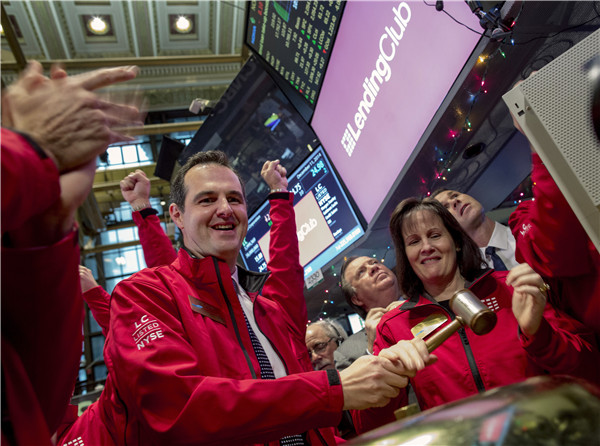 Renaud Laplanche (center), founder and CEO of Lending Club Corp, celebrates with company executives their IPO at the New York Stock Exchange on Dec 11, 2014. Lending Club's share price has tumbled more than 80 percent in the past 12 months.[Photo/Agencies]
Chen Tianqiao, the founder of Shanda Group who a decade ago was China's youngest billionaire, has led the purchase of an 11.7 percent stake in online lender Lending Club Corp, according to a filing with the US Securities and Exchange Commission.
In a move that spells a continued move away from the online games industry in which Chen made his early fortune, the Singapore-based investment company said it is teaming up with three other investors in acquiring the stake.
The four companies paid a combined $148.7 million for 29 million shares in Lending Club and another $11.2 million for 15.7 million options. Once the options are exercised, Shanda will be Lending Club's largest shareholder.
Lending Club stunned the market on May 9 after its founder and Chief Executive Officer Renaud Laplanche resigned following an investigation by the US Justice Department revealed the company had knowingly sold $22 million of near-prime loans to one single investor, which violated the criteria set by the buyer.
The company's shares have plummeted more than 40 percent since the irregularities were reported.
But the Shanda-led investment appears to have restored stability, with Lending Club's shares rising 8.27 percent on Monday.
One of the forerunners of the online lending sector, founded in 2006, Lending Club's share price has tumbled more than 80 percent in the past 12 months, with its market value crumbling from $5 billion to $1 billion.
Shanda said in a statement it was a "strong believer" in the business model that Lending Club had created, and was "positive on its long-term" prospects as it continues to evolve and refines its business.
Shanda first dipped its toes into the P2P lending sector in 2013, when it invested in the Chinese online lending platform, P2P Eye, which proved the start of its move away from online gaming.
Its interests are spread across animation, film, cloud computing, private equity investment, public market investment, real estate and mutual funds.
It said recently it is poised to increase its stake in Sotheby's to as much as 10 percent, at a time when the auction house's market value has shrunk by more than one-third. Its current 2-percent stake was valued at $31 million as of Mar 31.
Chen launched Shanda in 1999, becoming one of China first online gaming companies.
Within five years he managed to list it on the Nasdaq, making him a billionaire by the time he was 31.
The company first revealed its transformation strategy in November 2014, after selling all its shares in Shanda Games Ltd.
At the start of this year, it issued a statement saying it had divested all its games-related holdings, and that it would continue its transformation into a global investment holding company.
Even though the company and its founder have remained low-profile, public information showed Shanda Group has invested in more than 140 companies over the past decade, including China's first online ticket booking platform Gewara.
In last year's Hurun Midas Rich List of China, Chen ranked second with a personal wealth of $2.7 billion. To qualify for the list, 30 percent of the nominee's wealth must have derived from investment.