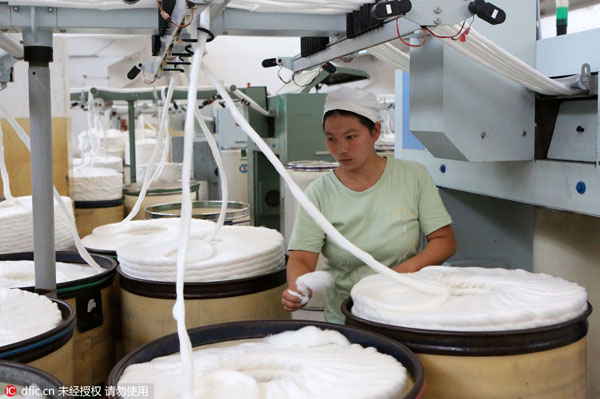 A worker works at a state-owned textile enterprise in Huai'an city, East China's Jiangsu province, Oct 10, 2015. [Photo/IC]
Conventional manufacturing models are becoming obsolete as the potential of new materials and high-tech products are realized, Chinese and New Zealand entrepreneurs told an international gathering in Auckland last month.
Iain Hosie, technical director of Auckland-based nanofiber developer and manufacturer Revolution Fibres, said the biggest hurdle facing the field of new materials was educating industry as to its possible applications.
Much of the company's business involved customization of nanofibers using one-off non-recurring engineering for niche markets that large manufacturers lacked the flexibility to adapt to.
Manufacturers were increasingly looking for specialists and increased performance, but were unwilling to take on the costs of development of new materials, said Hosie.
"What we're seeing is the big old model of the General Electrics and 3Ms, who have huge R&D teams trying to be all things to all men, those days are gone," he said.
"While advanced materials technologies continue to advance at rapid pace, the mechanisms of how they will get into market, how they'll be used by industry and at what price are not being addressed in that type of research, so there's so fundamental gaps sitting here," he said.
Derrick Xiong, founder of Guangzhou-based drone maker Ehang, said the drone industry, which was dominated by Chinese companies, was redefining the definition of "made in China."
China had the lucky coincidence of timing, location and people, which enabled the industry to take off.
Chinese government policies to encourage entrepreneurship and the inflow of investment funds had nurtured a spate of innovation startups, said Xiong.
"It's no longer the best option for the fresh graduate in China to go to work in a big corporation, like the Fortune 500. It's a great opportunity for them to go an alternative way and work in a startup or to start their own company," he said.
While China's manufacturing had flourished on low-grade production in the last two decades, this had helped preserve large manufacturing bases around the country, particularly in southern China's Guangdong province.
"This has brought a great competitive advantage for a company like Ehang. We're making smart drones. That means we're combining both the software and the hardware, so we need hardware, we need manufacturing facilities," he said.
The advantage allowed his company to develop a prototype in a third of the time it took companies outside China.
China's burgeoning mobile internet market had also created a huge demand for and supply of software engineers, so it was easy for Ehang to find software engineers around its manufacturing base.
"We believe that there should be a new definition of 'made in China.' It shouldn't be just about hard work; it shouldn't be just about cheap labor," said Xiong.
"It's also about high quality, it's about innovation, it's about creating new things out of what has existed, it's also about how we transform the way we live in the world."