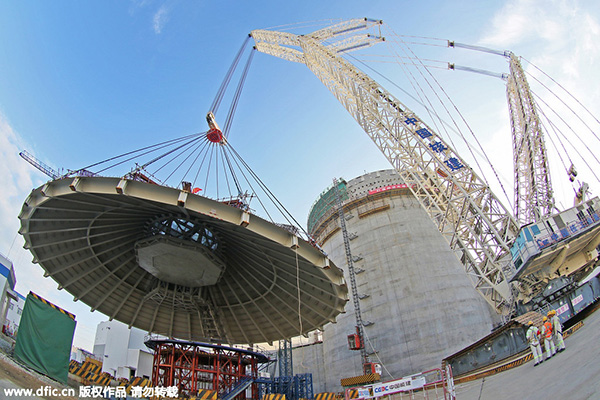 A containment dome for the No 2 nuclear island is being lifted and installed at the Haiyang Nuclear Power Plant in Haiyang city, East China's Shandong province, Sept 12, 2015. [Photo/IC]
China General Nuclear Power Corp said on Monday that a review of its nuclear-safety control system has been completed by the International Atomic Energy Agency, a move expected to lead to a boost in its exports.
CGN, one of China's biggest nuclear power operators, said the review reaffirmed the innovations of the domestically developed system that is considered to be "central nervous system" of a nuclear power plant. It said the system is now ready to compete with foreign rivals, including those from Japan's Mitsubishi Electric Corp and the US group Westinghouse Electric Co.
The digital control system for nuclear reactors, known as FirmSys, is key equipment used for controlling and monitoring a station's operations and management to ensure its safety.
Jiang Guojin, general manager of China Techenergy Co Ltd, the CGN subsidiary that developed the product, said it is ready to export, since it has a competitive edge over foreign counterparts in terms of production costs.
Jiang said it is able to cut around 300 million yuan ($45 million) from the total cost of a nuclear reactor, compared with safety control systems from international companies.
"It can be used not only in the nuclear industry, but also in the fields of aerospace and shipping," he said.
The company added that because China has embarked on an ambitious building plan for nuclear power plants to optimize its energy mix amid mounting pressure to combat air pollution, CGN also aimed to boost sales to domestic nuclear power projects.
China will put another 100 nuclear reactors under construction in the next 15 years in a bid to meet the country's clean air target, and FirmSys will play a key part in that market, Jiang said.
CGN spokesman Huang Xiaofei said the launch of FirmSys will bring more than economic benefits.
"There are (few) companies that have research and development, manufacturing and operational capabilities in the distributed control system sector," he said.
"It will reduce the reliance on imports from countries like the United States, France and Japan."
FirmSys was launched in 2010 after five years research and development. The equipment is now widely used in many nuclear power stations, such as units 5 and 6 of Yangjiang nuclear power plant in Guangdong province and units 5 and 6 of Tianwan nuclear power plant in Jiangsu province.
China had 33 nuclear units in operation and 26 under construction at the end of last year, according to official data.