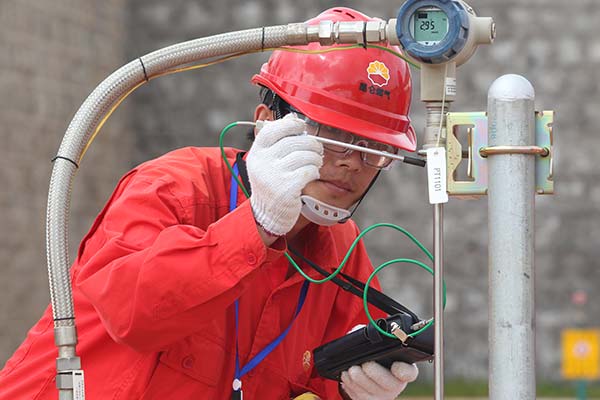 A technician tests a natural gas pipeline facility operated by CNPC in Kunming, Yunnan province.[Provided to China Daily]
Energy giant bets big on growing demand for cleaner fuel
China National Petroleum Corp, Asia's biggest oil and gas producer, will increase its investment in natural gas exploration and production, pipeline construction and gas sales in the coming decade, betting big on the country's thirst for the clean fuel.
The State-owned company, which currently allocates 70 percent of its total budget to natural gas production and around 10 percent to gas pipeline construction, is expected to increase these figures as it focuses more efforts on its gas business, said Hou Qijun, head of CNPC's planning department.
The Beijing-based oil and gas company will expand its gas annual output to 180 billion cubic meters by 2020 from the current capacity of 120 billion cu m, according to Hou.
"Natural gas production is our top priority with high potential for profit growth," Hou told China Daily on sidelines of a forum held by the CNPC Research Institute of Economics and Technology.
Despite the world's oil majors all having cut their spending on future projects as plummeting crude oil prices have slashed their profits, CNPC is aiming to secure demand and increase gas output.
"The downward trend in natural gas is only a temporary situation, affected by falling oil prices, but it will become one of the most profitable businesses in China," Hou said.
PetroChina, CNPC's listed arm, posted its first quarterly loss in April. Its profits from natural gas and pipelines slumped nearly 36 percent to 4.7 billion yuan ($714 million) in the first three months of 2016.
Gao Jian, a senior analyst at commodities consultancy Sublime China Information Co Ltd, said natural gas lost its competitive edge over cheap oil in recent years, but gas prices will rebound due to increasing demand.
"As a clean energy option, natural gas is also cost-efficient and reliable compared with other renewables, such as wind and solar. It will play an important role in the country's shift toward green energy," he said.
China's natural gas consumption will surge to 510 billion cu m by 2030 and 710 billion cu me by 2050, according to the 2050 energy outlook of CNPC's research institute.
Du Wei, head of the research institute, said that natural gas demand is expected to grow at an annual rate of 3.8 percent between 2014 and 2050.