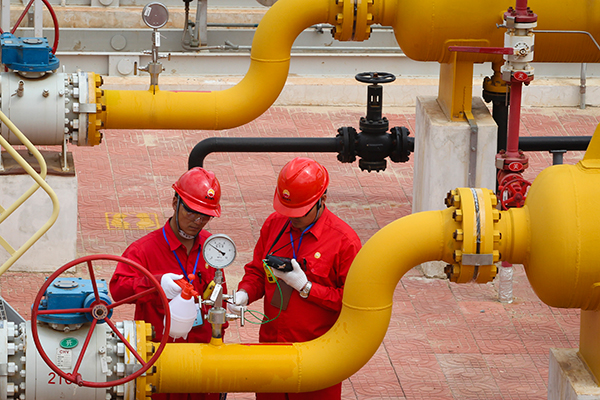 CNPC workers check gas transportation facilities in Kunming, Yunnan province. [Photo provided to China Daily]
Energy analyst says the State giant might aim for initial public offering of its major units
China National Petroleum Corp, the country's energy giant, is planning a reorganization of its engineering units, an official with the company said on Friday.
"The detailed plan has not been revealed yet, but we are doing the technical research and a top-level design for the restructuring. We are taking the initiative to adapt to changes and promote business-model innovation as part of efforts to respond to challenges brought on by low oil prices," the official said, who prefers to be anonymous.
Han Xiaoping, chief executive officer of online energy information portal China5E.com, said with the reform pushed forward by the government, CNPC may aim for an initial public offering of its engineering units, covering businesses from oil and gas field ground construction, refinery engineering to pipeline network construction.
"It may follow the moves of other oil giants such as China National Offshore Oil Corp and China Petrochemical Corp, which have partially spun off their oil services divisions, as a way to become more competitive both internally and externally," he said.
Brent crude fell to an average of about $50 a barrel last year, from roughly $99 in the previous year, pushing oil companies to shed more noncore assets and slash capital expenditure.
A report by Securities Daily said that PetroChina, the listed company of CNPC, had a debt of more than 1 trillion yuan ($154.8 billion) last year, and planned to further cut its capital spending by 23 percent, or 155.7 billion yuan, this year.
It said that spending at the company had dropped 51 percent from 2013 to 2016.
Against such a backdrop of plummeting oil prices, the oil giant is considering an IPO of the oilfield services business, according to Wang Yilin, CNPC's chairman.
Wang said during an industry conference held in Houston in February that the company may spin off its oilfield services business without giving details on the timing or stake size of a potential oilfield services IPO.
The Beijing-based firm is likely to become one of the first patch of State-owned enterprises to undergo sweeping reform within weeks, part of a broader restructuring drive to boost efficiency and bring in private investment.
Lin Kaisheng, a senior researcher at Shenwan Hongyuan Securities Co, said that the fact that low oil prices have hit profits of oil companies will prompt the reform of the State-owned enterprises to attract external investment and become more efficient.