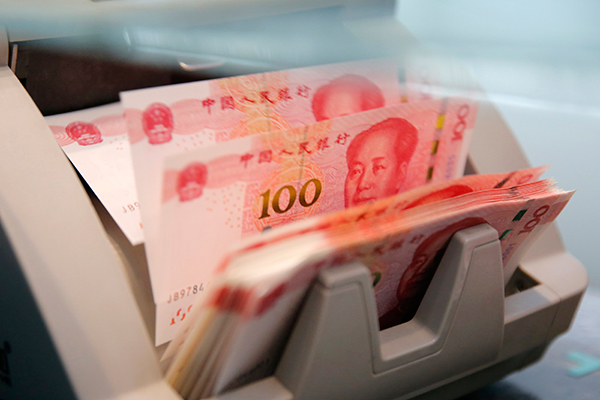 Chinese 100 yuan banknotes are seen in a counting machine while a clerk counts them at a branch of a commercial bank in Beijing, China, March 30, 2016. [Photo/Agencies]
China's overseas investment is expected to increase more than 10 percent in 2016 and keep the momentum in the next five years, bucking up the trend of domestic economic slowdown and gloomy global recovery, said a report released by Ernst & Young on Thursday.
Investments will continue to diversify amid Chinese companies' overseas expansion, targeting areas with more added value, including consumer goods, science and technology, services, as well as high-end machinery manufacturing such as high-speed rail and nuclear power.
"More Chinese enterprises will 'go global', investing in wider areas around the world while accelerating industrial upgrade and deepening international capacity cooperation," said Loletta Chow, global leader of EY's China Overseas Investment Network.
"They will focus more on acquiring high value-added technology and marketing networks, so as to increase their international competitiveness," she added.
The country's outbound direct investment hit a record high of $139.5 billion in 2015, up 13.3 percent from a year earlier, among which investment grew 18.2 percent to reach $14.8 billion in countries and regions along the Belt and Road, according to the report.
Meanwhile, the value of overseas mergers and acquisitions surged 74 percent last year, led by such sectors as TMT, auto and transportation, and financial services with a year-on-year growth of 163 percent, 128 percent, and 101 percent, respectively.
The immediate impetus for Chinese investors' global outreach, said Chow, came from the urge to transform and upgrade, and boost their own competitiveness in the world arena.
"The next step is to develop 'China intelligent manufacturing', build 'China brand' and improve 'China services', which will be the new direction for 'Made in China' to go global," she said.
She noted that China's growing outbound investment would become the key driver of future domestic economic growth and acceleration of the globalization.
High end, high speed
The manufacturing industry has contributed about 40 percent to China's double-digit economic growth for the past three decades, producing 90 percent of the country's total exports, according to the report.
Long been at the low-end value chain, Chinese enterprises are now well-positioned to upgrade their global strategies to access advanced technology, brands and markets, largely bolstered by the country's push of international capacity cooperation and its "Made in China 2025" strategy.
According to EY's report, last year's outward direct investment from the country's machinery manufacturing industry surged 154.2 percent from a year ago.
The sector, said the report, will be led by high-speed rail and nuclear power, and enjoy more opportunities for years to come, especially in the countries and regions along the Belt and Road.
It's estimated the total length of overseas high-speed rail will reach 80,000 km with the investment value of $2.4 trillion by 2030 or 2035. World's total nuclear power capacity will more than triple to reach 1,350 gW by 2030, with an expected investment of up to $1.5 trillion.
China has several advantages in these areas, such as rich experience, low-cost control, technologies, and national policy, said Chow. "That will lead to a new wave of their booming overseas expansion."
By 2015, the country has built the world's longest high-speed rail of nearly 19,000 kilometers, accounting for more than 60 percent of the global total mileage. The country has extended its high-speed rail network across the world.
Meanwhile, the country boasts world's fifth of 31 nuclear power units in operation, and largest number of 24 under construction, and have already in cooperation with countries including the United Kingdom, France, and South Africa.
High-speed rail and nuclear power have become China's new business cards worldwide, said Chow.
With new opportunities, however, come lurking risks, said Yew-Poh Mak who leads EY's Transaction Advisory Services practice in North China.
"Since the political economy and social culture vary among countries along the Belt and Road, a lack of long-term planning and comprehensive understanding of investment destinations may lead to massive failure," he said.
He added that only a multidimensional and comprehensive knowledge pack of the degrees of economic freedom, investment freedom, and ease of doing business in the investment destination can assure accurate investment judgments.