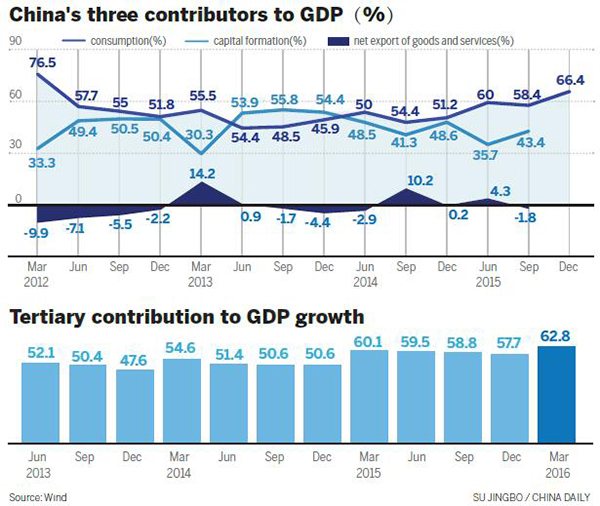 The structural rebalancing of the Chinese economy toward consumption has received a boost from the tertiary sector, which registered a 7.6 percent growth in the first quarter, way outpacing agriculture and industry.
"We saw some positive signals of economic restructuring progress in the first quarter, driven by fast development of the services sector," said Sheng Laiyun, spokesman for the National Bureau of Statistics, on Friday.
Sheng's comments came a day after data released by the National Development and Reform Commission indicated that the tertiary industry has had the fastest growth of electricity consumption, which registered a quarterly growth of 10.9 percent year-on-year.
Growth of electricity consumption in the primary and secondary sectors was only 7.8 percent and 0.2 percent, respectively, which is still a "mild recovery", according to Zhao Chenxin, spokesman of the NDRC.
Official data show that the tertiary sector accounted for 56.9 percent of the GDP growth in the first quarter, which is 19.6 percentage points higher than that of the manufacturing sector.
Niu Li, director of macroeconomics at the State Information Center, said a bigger contribution of the services sector to GDP delivers positive signals that China is on the right track for structural improvements.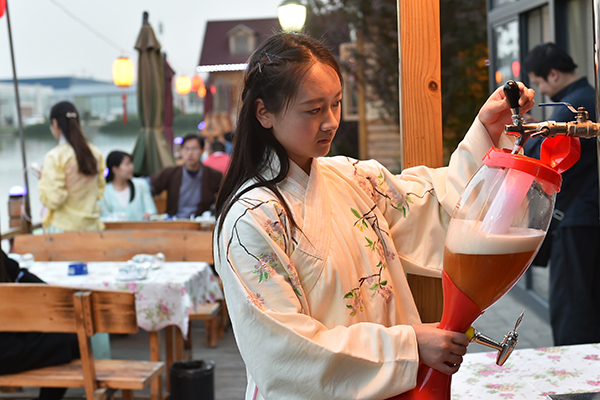 A waitress works at a restaurant in Luoyang city, Henan province, April 9, 2016. [Photo/VCG]
As evidenced by the data breakdown, major contributors including financial services and real estate sales did not drag down the broader services sector.
Real estate sales amounted to 1.85 trillion yuan ($284.6 billion) in the first quarter, which saw a 54.1 percent increase from a year earlier.
While admitting some future uncertainties, Niu said increased demand for high-end services and e-commerce industries point to a sustainable growth in the services sector.
In the first quarter, online retail sales registered 27.8 percent year-on-year growth, taking up 10.6 percent of total retail sales.
Investors are buying into services and high-tech industries-both of which witnessed a growth that is 3 percentage points higher than the total investment growth rate, according to the NBS.
Some new online products and services, such as medical service, have become a new driving force for the economy.
Qin Zexi, an analyst at Beijing-based internet consultancy iResearch Consulting Group, said the internet healthcare sector has entered a new stage in the first quarter as a growing number of consumers are accepting the innovative business model.
"Previously, consumers on online platforms can only access basic medical services such as making appointments. But now they can go to a local clinic and consult with a doctor at a top-level hospital faraway through the internet," said Qin.
According to Qin, a string of new internet hospitals has been established within the first three months, partly fueled by the strong support from local governments.