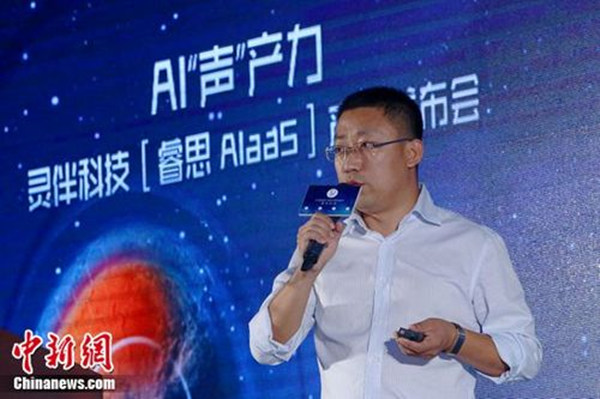 Chen Bo, CEO of Lingban Technology Ltd speaks at the release of Alaas in Beijing, July 4, 2016. [Photo/China News Service]
Chinese artificial intelligence startup Lingban Technology Ltd launched a new voice-recognition product, after the two-year-old startup raised near 100 million yuan from investors.
The move is the company's latest effort to carve out a presence in the country's infant yet increasingly crowded artificial intelligence industry.
The new product, AIaas, or Artificial Intelligence as a Service, is designed to help small-and-medium-sized enterprises offer virtual customer service and voice-enabled assistance to senior citizens. It is, in essence, a cloud platform where companies can access Lingban's intelligent voice-recognition technology.
Chen Bo, CEO of Lingban, said, "The rising labor costs and increasing labor shortage make it difficult for enterprises to hire employees."
"Our product, which has more than 50 types of intonations, can vividly imitate the human voice and have a natural man-machine conversation," Chen said, adding AIass can help reduce the cost of human customer service by up to 80 percent.
Established in 2014, Lingban is a technology-driven startup, with eighty percent of its core team members having PhD or higher degrees from leading Chinese universities.
But it will be difficult for the startup to get a foothold given that both international heavyweights Google Inc and IBM as well as homegrown companies Alibaba and Baidu are all racing to dominate the AI industry.
According to research firm Venture Scanner, the global artificial intelligence market will exceed 100 billion yuan ($14.9 billion) in 2020, with China accounting for about 10 billion yuan.
The company did not disclose its major investors.
Zhong Xin contributed to the story.