Baidu to shift to AI, says CEO
Internet company responds to probe over ad listings after student's death
Baidu Inc's CEO has pledged to shift the company's business model from a search engine model to one based on artificial intelligence, after a recent government probe put a chill on its core search business.
Li Yanhong said in an internal letter on May 10 that the move will allow Baidu to develop such areas as voice search, automatic translation and driverless vehicles.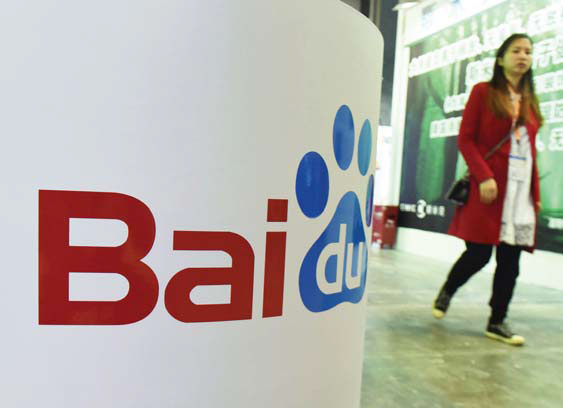 Analysts say the move is expected to dampen Baidu's near-term profitability. Provided to China Daily
Li, a founder of the company, which runs China's largest online search engine, also vowed to emphasize user experience over income and to set up a department to root out any behavior that might damage user experience.
"The department will have the final say to veto any behavior that is not in line with a good user experience," Li said in the letter. "Some of the measures we take may have a negative impact on the company's income. But I believe it's the right thing to do."
Analysts say the move is expected to dampen Baidu's near-term profitability, which in turn could make it more challenging for its new business initiative to gain momentum.
The pledge to put users ahead of business performance came after a government investigation led to a demand that the search giant overhaul its paid listing system. The probe came after the death of Wei Zexi, a 21-year-old college student, who underwent an experimental medical treatment that had been advertised among Baidu's search results.
The Cyberspace Administration of China, the state regulator, said on May 9 that the company had "influenced the impartiality and objectivity of its search results, making it easy to mislead users, and this must be immediately rectified".
In response, Baidu said it will restrict the proportion of sponsored search results to 30 percent per web page and adopt a new listing system that does not fully depend on the advertising price, but also considers an advertiser's reputation.
Other actions include placing clear disclaimers on ads, so online users can tell them apart from natural search results, and establishing a 1 billion yuan ($153 million; 134 million euros) fund to compensate netizens cheated by false promotions.
Industry observers say medical-related ads are estimated to account for 25 percent of Baidu's revenue.
Lyu Ronghui, an analyst with the iResearch consultancy, says Baidu's revenue is likely to decline in the near future because it will have to turn down some advertisers and may also spend more money to verify the qualifications of medical organizations or enterprises.
mengjing@chinadaily.com.cn