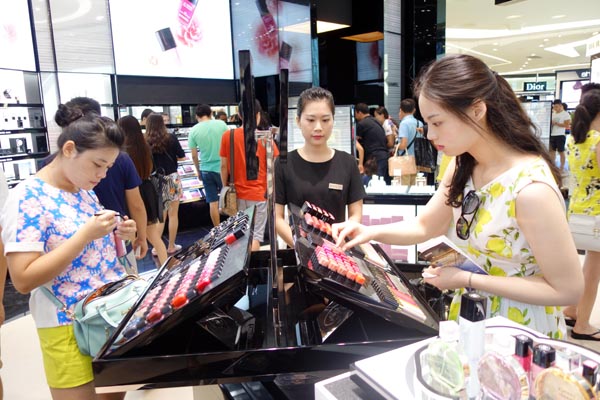 Tourists select cosmetics at Sanya Haitang Bay International Shopping Mall.[Photo by Huang Yiming / China Daily]
LF Beauty, a company specializing in consumer goods design, development, sourcing and logistics, said it aim to deepen the development of the Chinese market, which is seeing quick growth in skincare and cosmetics products.
"Asian beauty is now setting the pace for the world. China, South Korea, Japan as well as the entire Southeast Asian market are very important for us, which represents about 4.5 billion in population," said Gerard Raymond, president of LF Beauty, adding that the large population base and younger age are the two distinguishing characteristics of the Asian market.
"The younger generation consumer knowledge and wealth is growing very fast. And they are very willing to try new and innovative things," Raymond said.
Meanwhile, the East-to-West trends will continue to evolve at a rapid pace, he added.
As a move to promote the development of the China and Asian market, LF Beauty launched a Creative Days concept event at its China headquarters in Shanghai in May with a series of immersive experiences for beauty brands in Asia, following a pilot in Paris, France, in late 2015.
LF Beauty said the move is to help Asian and Western brands meet the evolving needs and desires of Asia's discerning and sophisticated consumers and leverage the scale of opportunity in such regions through showcasing the latest beauty concepts and innovations from product formulation to packaging to digital beauty developments.
"It's never been more challenging, and there never have been more opportunities for brands to stand out and keep pace with their consumers. In this competitive environment, we work to help many of the world's best-loved brands to innovate, thrive and become market leaders," Raymond said.
The Chinese skincare and cosmetics market is forecast to grow at an average annual rate of 12.8 percent during 2016 to 2019, significantly outpacing the global average of six percent, according to Hong Kong Trade Development Council.
Nielsen Global Connected Commerce Survey showed consumers in China are making more than 2.5 times as many online beauty and personal care purchases than their global counterparts in the fourth quarter of 2015.
"We have seen that Chinese women now are very interested in beauty products from South Korea," he said. "In this respect, we have already established a joint venture in South Korea, which allows us to transfer their knowledge to Chinese market directly and serve the demands of local consumers."
So far, LF Beauty has four manufacturing bases in the Asian region, which are located in China, Thailand, Indonesia and South Korea.
As a division of Hong Kong-based Li & Fung Group, LF Beauty is a one-stop-shop partner and supplier of product solutions for fragrance, skincare, color cosmetics, digital POS displays and beauty instruments for international brands, retailers and direct marketers. It offers a wide range of services, including marketing, design, engineering, formulation, filling, packaging, manufacturing, quality control, logistics and POS displays.