Brand wars break out in cosmetics
Despite economic slowdown and intense competition from Japanese and South Korean cosmetic and skincare brands, Chinese players are fighting back to regain consumers.
According to the China Shopper Report 2015, released by consulting firm Bain & Co in July last year, Chinese retailers contributed 87 percent to the overall market growth in 2014, accounting for about 70 percent of the market value in 26 monitored categories.
They outsold foreign brands in 18 categories, making the biggest gains in skincare and color cosmetics.
Bruno Lannes, partner at Bain's Shanghai office, said Chinese cosmetic brands made gains by executing smart strategies designed to appeal to local shoppers.
"For example, Chinese skincare brand Pechoin advanced by starting from smaller cities and expanding into larger markets with upgraded products and a premium brand image.
"Media-heavy investment helped cosmetics brand Kans boost its penetration in offline channels to gain market share from foreign competitors."
Expectation of a rise in demand in the future has also driven domestic retailers to increase the pace of opening stores, according to Deloitte China.
On the other hand, overseas retailers have a more conservative approach to allocating their resources. They face intense competition from local companies on top of uncertainty over domestic and global economic growth.
Xie Wenjian, general manager of Shanghai Jahwa United Co Ltd, said that from a cultural perspective, the rise of local brands is the result of "the rising oriental natural power".
Chinese consumers' preference for herbal and traditional Chinese medicine has prompted the growth of local brands, he said.
Shanghai-based Jala Group, known for its leading brands including Chando and Maysu, has been one of the successful players. In 2015, the group saw its total sales revenue rise by 15 percent year-on-year.
Sales of its products at department stores and supermarkets grew by a more significant 19 percent. Three skincare products under the group's key brand Chando managed to clock annual sales of more than 100 million yuan ($15.3 million) each last year.
According to Zheng Chunying, chairman of Jala, 2014 was a turning point for Chinese domestic brands. In that year, their collective sales overtook that of foreign brands for the first time.
Much of that success can be attributed to research and development in which Chinese companies invested heavily. Jala, for instance, invested 5 percent of its annual turnover in R&D in 2015.
This meant the quality of Chinese products improved to be comparable with foreign brands. In some cases, Chinese products were even considered superior.
"Of course, the rise of Chinese domestic brands is also due to government support. The central government has been educating consumers about domestic brands. Chinese consumers now have a rational understanding of local brands, and are not unduly swayed by the notion that all foreign brands must be superior by default," he said.
Chinese e-commerce websites have also provided more opportunities for cosmetics brands to grow. During the Nov 11 online shopping festival last year, Chando's sales reached 103 million yuan, double the previous year's figure.
Among the 500,000-plus consumers who bought Chando products that day, 85 percent were first-time buyers. From Nov 1 to 10, Chando's offline sales also surged by more than 60 percent year-on-year. Sales of its makeup products alone increased by 52 percent year-on-year.
Many other domestic cosmetic and skincare brands seized the Nov 11 opportunity and competed with celebrated global brands. Flash sale giant Vipshop Holdings Ltd hosted many Chinese brands on its online platform, such as Shanghai-based Kans and Pechoin, and Beijing-based Dabao, which squared up against many European and US brands, including Estee Lauder, Olay and Elizabeth Arden.
"Domestic players now understand the importance of brand-building. This has greatly helped their sales in China. We have seen rapid increase in sales of Chinese makeup and skincare brands on our platform," said Zhang Dan, public relations manager of Vipshop.
shijing@chinadaily.com.cn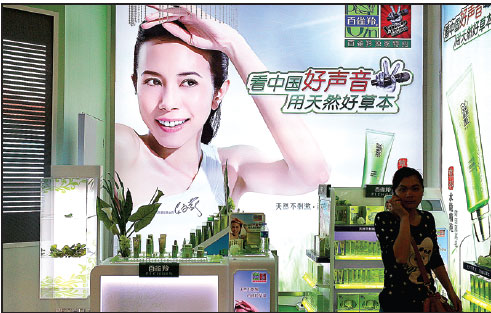 Chinese skincare brand Pechoin's counter at a shopping mall in Nanning, the Guangxi Zhuang autonomous region. Provided To China Daily