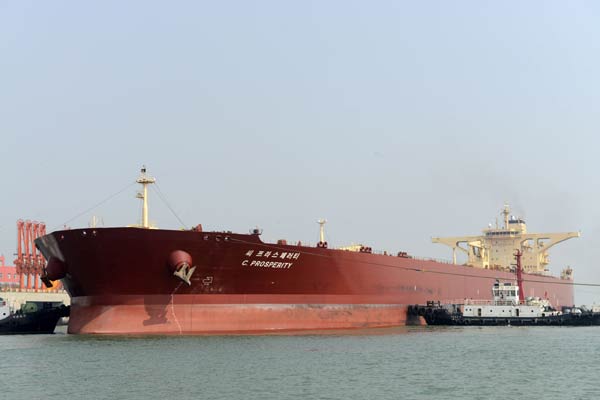 A super large Panamanian oil tanker docks at a wharf in Rizhao, Shandong province.[CHEN WEIFENG/FOR CHINA DAILY]
JINAN - The so-called teapot refineries of East China's Shandong province imported 7.488 million tons of crude oil in the first quarter of this year, Xinhua learned exclusively from local authorities.
Of China's 91.1 million tons of imported crude in the first quarter, 8.2 percent went to Shandong's teapots.
Statistics of the teapots' crude imports are compiled quarterly, so numbers since March are not yet available, according to an official with Shandong Economic and Information Technology Committee (ETIC), who declined to be named.
The coastal province boasts more than 70 percent of Chinese teapots' refining capacity and revenue, according to exclusive data shared with Xinhua.
Their international impact only began to be felt toward the end of last year, however, when the central government issued them with import quotas.
Last year, 18 Shandong teapots applied for permission to import 64.42 million tons of crude annually, ETIC said.
As of May this year, 11 have secured 41.43 million tons, with the remaining applications, for 22.99 million tons, awaiting approval. Eleven additional Shandong teapots are preparing to apply, too, ETIC said.
Should all the applications be approved, Shandong teapots' potential crude imports could account for almost a fifth of that of the whole country, as customs data showed China imported 335.5 million tons last year.
Out of hinterland
It was not long ago that these same teapots were struggling with crude shortages, as China's oil market is dominated by State-owned giants such as CNPC and Sinopec.
The giants, whose businesses span from extraction, refining to retailing, have been for years reluctant to "feed" smaller, independent rivals with crude.
"The biggest difference between us and a State-owned refinery is that we never know when or from whom our next 'meal' will come," said Li Bo, a former Sinopec Qilu Petrochemical Corp employee who is now general manager of Shandong Wonfull Petrochemical Group Co, both in Zibo city.
As a result, Shandong teapots' capacity utilization rate for 2013 was 36.4 percent, whereas State-owned refineries were running at over 80 percent, according to ETIC numbers.
Breakthrough has been made to narrow the gap as local teapots gained import quotas, which ETIC officials described as an effective step in China's ongoing supply-side reforms.
Wonfull Petrochemical was granted an import quota of over 4 million tons earlier this year, and the news was significant, Li said.
"Tears poured down employees' faces. We used to think we were second-class citizens, but now we are on equal footings," Li said.
Shandong teapots were granted quotas in late 2015, and rushed to import crude, but last year's total imports -- 7.37 million tons -- were "below expectations," according to the ETIC, because of "highly fluctuating prices and the teapots' lack of buying experience."
Exploring wonderland
With steady, quality imports, the teapots are already reaping handsome rewards -- and profits.
The eleven teapots that have been granted quotas, registered a 20.9 percent growth of revenue and 622 percent growth of profits in the January-March period.
"We used to run at 30 to 40 percent capacity, but now we are near full production," said Wei Yudong, deputy general manager of Lihuayi Group Co Ltd, which has been allowed to import 3.5 million tons a year.
Leading the teapots' imports is Shandong Dongming Petrochemical Group, which imported 2.258 million tons in the first quarter, according to ETIC.
As imports limits are poised to loosen, the province is championing a new platform -- the China Independent Oil Refiners Purchasing Alliance -- to seek lower prices from the international market.
Fourteen teapots, including 11 within Shandong, have joined the alliance, said ETIC, adding that, "We will actively support the alliance in unified negotiations and purchasing based upon uniform pricing, so as to bolster bargaining power and promote the interests of the teapots and the industry."
Teapots, including Lihuayi, Dongying Qirun Chemical Co Ltd, and Dongying Yatong Petrochemical Co Ltd, will channel billions of yuan to improve their petrochemical processing capabilities, company executives told Xinhua.