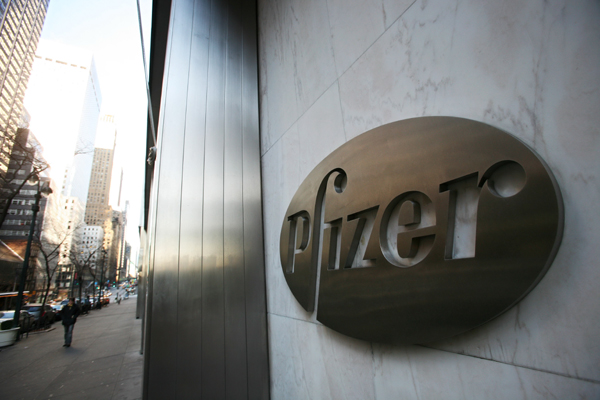 Headquarters of Pfizer Inc in New York. [Photo/China Daily]
Pfizer Inc said Tuesday it will invest $350 million in Hangzhou, eastern China on a plant for biotechnology drugs, bolstering its presence in the world's second biggest pharmaceutical market despite slowing economic growth in the country and rising pressure on prices for medicines.
The new facility is expected to be completed in 2018 and will manufacture biologics, or complex medicines made from living organisms, as well as biosimilars for patients in China and across the world, Pfizer said in an e-mail statement Tuesday.
Biosimilars are highly similar versions of biologic drugs that usually go through a complex manufacturing process. Making them requires greater precision than generics that copy relatively more straightforward chemical-based treatments.
The products from the plant will address major public health concerns such as oncology, the New York-based drugmaker said, without naming specific drugs. Biologics are underutilized in China, accounting for 4 percent of medicines prescribed in the country, compared with 22 percent in the US, according to the company.
A government-led campaign to reduce prices damped sales in China's pharmaceutical industry and the nation's economy has also slowed, leading to weaker sales growth in the country for drugmakers from Pfizer to the UK's GlaxoSmithKline Plc and AstraZeneca Plc last year. Still, multinationals, including Novartis AG, continue to invest in China, where a rising middle class is boosting spending on healthcare.
"China is one of the fastest growing pharmaceutical markets in the world and the ongoing China healthcare reform will continue to drive the expansion of China's pharmaceutical industry, including research and development," Pfizer said.
The new Pfizer facility will be its first biotechnology center in Asia and its third globally, the company said. Novartis unveiled a $1 billion campus in Shanghai this month, after Merck & Co opened a new research and development center on the outskirts of Beijing in April.
A slow approval process in China has delayed the entry of some cutting-edge new medicines by foreign drugmakers.