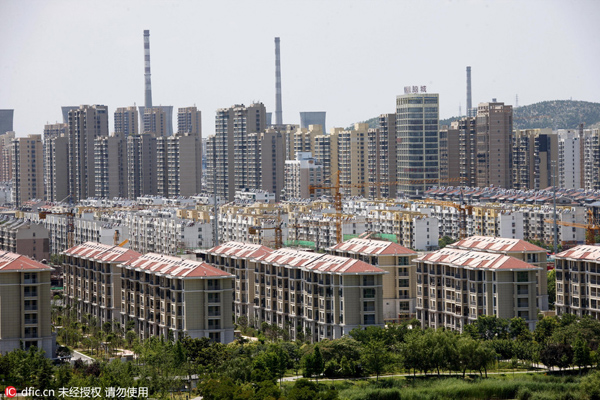 Commercial property in Huaibei, East China's Anhui province, on June 20, 2016. [Photo/IC]
BEIJING - China has a long way to go in destocking its real estate inventories given the huge overhang of unsold homes, property experts have said.
"The destocking efforts should pay more attention to sales instead of prices," David D. Li, Center for China in the World Economy director, was quoted Monday by People's Daily.
By the end of May, 721.69 million square meters of property was still unsold, although this is 5.21 million square meters lower than a month earlier, data from the National Bureau of Statistics (NBS) showed.
"The battle to destock is far from finished, given the growing divergence in the property market, with better economically positioned areas reporting price rises, and less developed regions showing muted response," according to Li.
In recent months, the property sector has shown signs of improvement, with home prices rising in big cities including Beijing, Shenzhen and Shanghai. But markets in smaller cities remain subdued due to a supply glut.
The contrasting picture has prompted local authorities to take different approaches: Shenzhen and Shanghai have tightened policies to curb speculative purchases and contain risks for a bubble, while third- and fourth-tiered cities are exploring new ways to encourage sales.
For instance, in central Shanxi province, migrant workers are entitled to government subsidies and tax deductions on mortgage interest.
In western Qinghai province, property developers have been told they can change land use from property to other industries including tourism and sports.