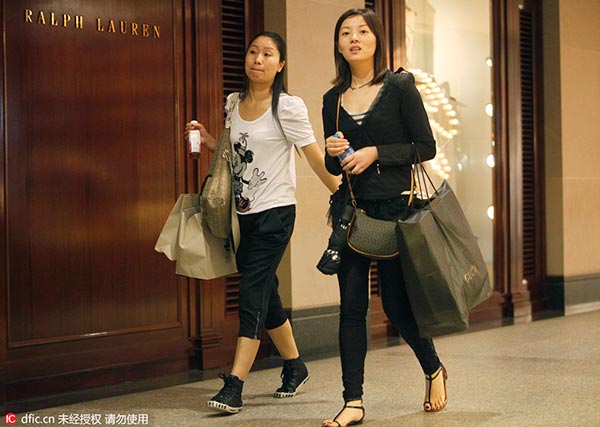 Mainland tourists are seen with luxury brand shopping bags in Hong Kong, China, May 17, 2011.[Photo/IC]
GUANGZHOU - Four Chinese cities have made the list of world's top ten favorite destinations for luxury retailers, according to a report released on Thursday.
Hong Kong, Shanghai, Beijing and Taipei have joined London, Paris and New York as global luxury retailers' most favorable cities, the report from real estate consultancy Jones Lang LaSalle (JLL) found.
The four Chinese cities, along with Tokyo and Osaka in Japan, and city-state Singapore, made the Asia-Pacific region the best place for luxury retailers to reach out to increasingly affluent consumers.
The consultancy expects a surge in the number of high-income families across Asia over the next 15 years, a trend that will put the region at the heart of global luxury consumption.
Hong Kong ranks second for luxury retailers after London and followed by Paris. Despite China's slowing economy and the continued anti-corruption campaign, luxury retailers still see Hong Kong as a gateway to the China market and a popular destination for high-spending tourists from the Chinese mainland, JLL said.
Shanghai came in sixth and is quickly emerging as a new hub for luxury retail in Asia. Beijing, ranked ninth after Dubai, has great potential given the city's substantial number of high-net-worth individuals, the consultancy said.