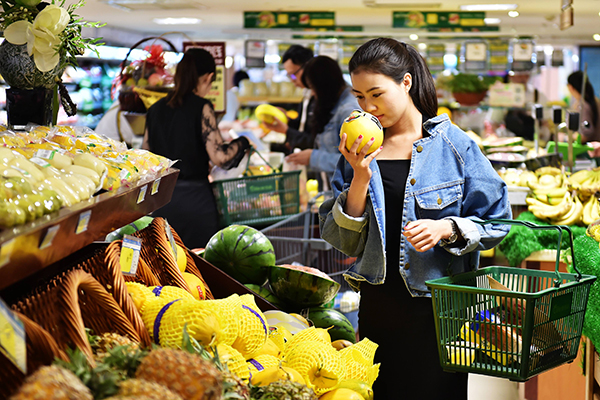 A citizen selects melon at a supermarket in Shijiazhuang, capital of North China's Hebei province, May 9, 2016. [Photo/Xinhua]
BEIJING - China was the most promising consumer market in Asia in 2015, and will probably remain so in the next four years, according to a Bloomberg report released Thursday.
"Even as China's economy slows and its population ages, it appears set to remain the most attractive Asian market for retailers in the years ahead," said Bloomberg economists in "Insight: Asia retail forecasts show China market to stay No. 1."
The report said the Asia-Pacific region accounted for just under a third of Apple's revenue, and more than half of the revenue of Yum! Brands, operator of fast food chains including KFC and Pizza Hut, in 2015.
"Asian consumers have shifted from bit-part players in the drama of global demand to a leading role," it said.
In ranking of the most promising consumer markets in 2015 by Bloomberg Intelligence Economics, China, Japan and India came first, second and third.
"For China and India, that reflects their massive young populations and large economies," the report said.
Following India were Australia, the Republic of Korea and Malaysia. Pakistan and Bangladesh ranked at the bottom of the list.
Using GDP and GDP per capita forecasts from the International Monetary Fund, and demographic forecasts from the United Nations, it's possible to project the ranking scores forward to 2020, the report said.
China's economy expanded 6.7 percent year on year in the first quarter of 2016, slowing further from the previous quarter but better than many had feared.
And foreign direct investment (FDI) in the Chinese mainland continued to rise in the first four months of this year, official data showed earlier this week.
FDI, which excludes investment in the financial sector, rose 4.8 percent year on year to 286.78 billion yuan ($45.3 billion) in the January-April period.
China will encourage an overhaul of its consumer goods industry to meet the needs of increasingly picky buyers, according to a statement issued after a State Council executive meeting Wednesday.
The government will back enterprises to spend more on design and R&D, the statement said.