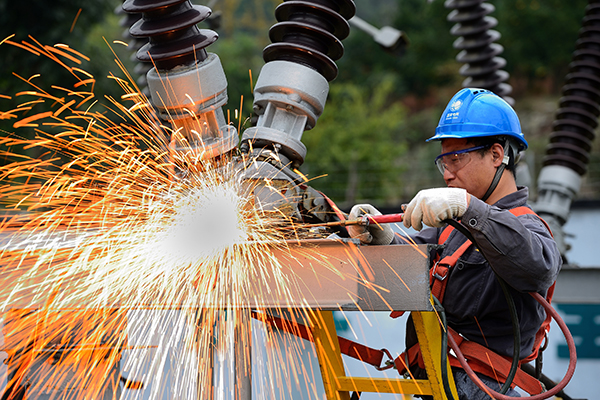 A worker soldering power transmission facilities in Zigui county, Hubei province. [Photo provided to China Daily]
State Grid Corp of China announced on Wednesday it will establish a Northeast Asia grid cooperation scheme in collaboration with firms in three neighboring countries, marking the first step in building a framework for a global energy interconnection.
The State Grid has signed a memorandum of understanding with Japan-based SoftBank Corp, Russia-based Rosseti and Korea Electric Power Corp in an effort to support the global transformation toward a sustainable and cleaner energy supply.
Liu Zhenya, chairman of the State Grid, expects that with an estimated $50 trillion of investment, the global cross-continent collaboration scheme will bring huge economic and social benefits when it is finally established by the end of 2050.
"Through smart grids, we hope to ensure global energy supply by promoting the integration of clean energy," Liu said at the International Conference on Global Energy Interconnection held in Beijing on Wednesday.
Liu added that the collaboration is helpful in addressing the inefficient usage of renewable resources, such as wind, solar and hydropower supply.
Taking advantage of abundant resources, China has made a big bet on renewable energy installation to wean off dirty fossil fuels, according to Liu Jizhen, president of North China Electric Power University.
But official data show that a big proportion of power generated from solar farms, solar energy projects and hydroelectric dams has failed to reach energy users-around 15 percent of electricity generated from wind projects has been wasted and 12 percent from solar projects has no place to go last year.
Liu, the university president, said that energy wasted can be better used when it is transmitted to regions with higher demand through extra high-voltage power lines.
"The good news is that countries involved under the Northeast Asia collaboration framework are well-prepared with sound technology bases to build electricity transmission systems across countries," said Masayoshi Son, CEO of SoftBank Corp, which proposed the establishment of an Asia Super Grid as early as 2012 and has joined with Newcom in Mongolia to supply clean power.
At the same time, Son noted that further collaboration could only be established when a clear and concrete scheme across countries is in place and geopolitics stakes are not in the way.
He Dexin, head of the Chinese Wind Energy Association, suggested that China has to resolve its own inefficiency before participating in a larger collaboration framework.