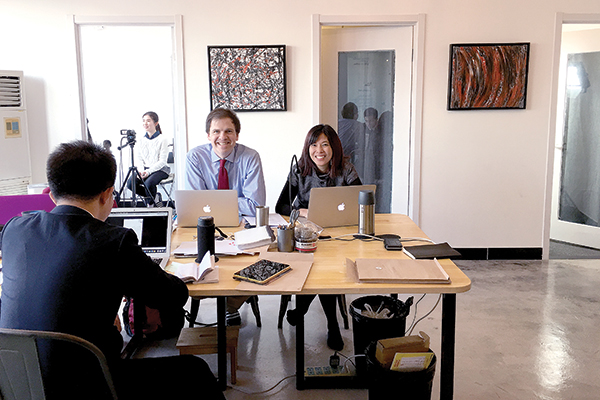 Terry Crawford and Gloria Chyou, a married couple and founders of Initial View, in their office in Beijing. [Photo provided to China Daily]
Two rivals vie to make paid-for Q&As with Chinese students
With hundreds of thousands of Chinese students vying for a limited number of places, Fang Dezhi, an 18-year-old computer science student, could count himself as one of the privileged who have obtained a place in the prestigious public research Georgia Institute of Technology in the United States.
For more than two years, Fang, a native of Altay, a city in the Xinjiang Uygur autonomous region in northwestern China, received intense preparation to enter a higher level academic institution in North America.
Aware of the increasing competition and following the recommendation of one university, Fang contacted a private company to register his video interviews in the application so that admission officers could use it alongside his academic scores and written essay.
"The video interview definitely helped me get a place," confessed Fang. "It's a great way to let the admission officers know more about the applicants."
With the help of the video recording, Fang managed to secure three university places after having sent more than 10 applications to different universities across the US.
In the 2014-15 academic year, more than 300,000 Chinese were enrolled in higher education centers in the US, almost triple the number five years before, according to the Institute of International Education.
Unable to deal with the rising flood of Chinese students applying for colleges in North America, some universities there have introduced a video interview requirement to select top students, creating a business opportunity for companies connecting admission officers with applicants.
Eddie West, director of International Initiatives at the US National Association for College Admission Counseling, said that video interviews not only convey the students' English language abilities but also their personalities.
"The key for colleges is not so much the technology (of video) itself," explained West. "It is working with trusted partners who can verify students' identities, and who have a shared interest in the school admitting only those candidates who are most deserving."
Married couple, Terry Crawford and Gloria Chyou, quit their corporate jobs to invest all their savings to establish Initial View, a Beijing-based company specialized in recording video interviews of Chinese students in the process of applying for academic institutions in the US.