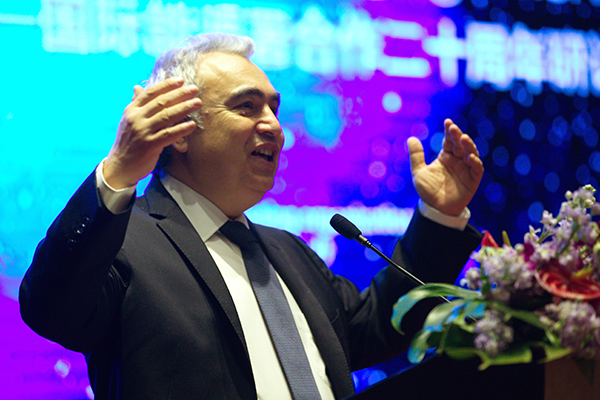 Fatih Birol, executive director of the Paris-based IEA. [Photo provided to China Daily]
China is very likely to meet the target of having 15 percent of its energy demand coming from renewables by 2020, said the head of the International Energy Agency.
Fatih Birol, executive director of the Paris-based IEA, said on Wednesday that he doesn't see any reason for China to fail to reach the target as long as the country's push for renewable energy continues.
"China has made some major moves in energy transition. It is No 1 in wind energy production, No 1 in solar energy production and No 1 in hydropower energy," Birol told China Daily in an exclusive interview in Beijing.
"At the same time, its coal consumption declines. China last year was the champion of the world in terms of reducing carbon emissions," he said.
According to a projection made on Wednesday by Sun Longde, vice-president of PetroChina Co, China's energy consumption is expected to peak in 2035 as its economy rebalances.
Birol didn't project on which source of energy will play major role in China' s energy mix in the long run as he sees the country is diversifying its energy mix and making its energy system more efficient at the same time.
"We will see more renewable energy, more natural gas, more nuclear power, and less coal in China," he said, adding that the Chinese government's determination is crucial because the low price of oil and natural gas may complicate the growth of renewable energy worldwide.
Birol, who came to Beijing to attend a ceremony marking the 20th anniversary of China-IEA Engagement, announced on Wednesday that the IEA and China's National Energy Administration started the process of the establishment of a joint energy cooperation center in Beijing.
The IEA-China Energy Cooperation Center will help China access energy-related advice and share the IEA's expertise in energy.