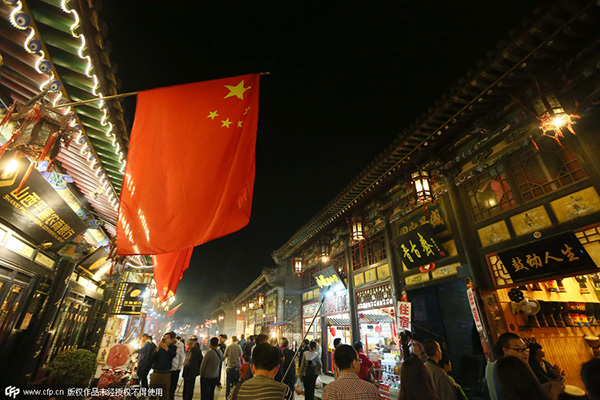 Tourists visit Pingyao Ancient town, North China's Shanxi province, Sept 19, 2015. [Photo/CFP]
BEIJING - China targets economic growth rate of 6.5 to 7 percent in 2016, and an average annual growth rate of at least 6.5 percent through 2020, according to a government work report available to media Saturday morning before the opening of the annual parliamentary session.
Last year's target was around 7 percent, and China registered an actual 6.9 percent growth, the slowest expansion in a quarter of a century.
This year's target is aligned with China's goal of finishing building a moderately prosperous society in all respects, and takes into consideration the need to advance structural reform, the report said.
"It will also help guide market expectations and keep them stable. The aim of maintaining stable growth is primarily to ensure employment and promote the people's wellbeing, and a growth rate of between 6.5 percent and 7 percent will allow for relatively full employment," according to the report.
The country's urban job creation target remains at least 10 million. Last year's 6.9-percent growth added 13.12 million new urban jobs.
"...China's economic output had exceeded 60 trillion yuan. Every percentage point of GDP growth today is equivalent to 1.5 percentage points of growth five years ago or 2.5 percentage points of growth ten years ago. The larger the economy grows, the greater the difficulty of achieving growth," the report said.
A brief outlook for China's 13th Five-Year Plan was also included in the report. The country expects an average annual growth rate of at least 6.5 percent from 2016 through 2020, when China will have a gross domestic product of 90 trillion yuan ($13.8 trillion).