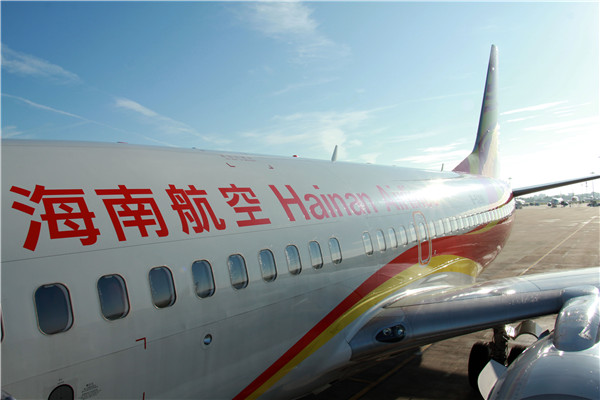 An airplane with HNA Group waits to take off in Haikou, Hainan on Sept, 19, 2015. HNA Group, the Chinese aviation and shipping conglomerate, and a consortium led by Ontario Teachers' Pension Plan Board and Borealis Infrastructure, are in the lead to buy London City Airport from its United States owners, Bloomberg reported in February, 2016. Photo/CFP]
The economic slowdown has failed to quench the desire for M&A, as Chris Peterson reports from London.
Editor's Note: At this year's two sessions-the biggest political event of the year-China's 13th Five-Year Plan (2016-20), which maps out the country's development path for the next five years, will be the major point of discussion. The draft plan stipulates that China will continue the reform and opening-up policy in the late 1970s. As the second of our in-depth reports during the two sessions, China Daily examines the prospects for mergers and acquisitions abroad by some of the nation's most progressive businesses.
Chinese companies large and small, private and State-owned, are embarking on a spree of overseas mergers and acquisitions, spurred by government policies that encourage overseas expansion.
All the signs are that M&A activity will break all records this year, even at a time of economic slowdown.
But what are the targets? Where are they? And, more importantly, how will Chinese companies overcome the inevitable challenges?
Ministry of Commerce data suggest smaller enterprises rather than larger, State-owned and private entities are behind the latest surge. In January, China's non-financial outbound investment rose to 78.7 billion yuan ($12 billion) almost three times the rate in December and a rise of 18.2 percent from a year earlier. Of the country's total overseas direct investment in January, 92.5 percent came from smaller enterprises, up 175 percent from the same period last year.
Figures from information provider Morning Whistle Group show that private companies completed 76.78 percent of the M&A deals last year, while State-owned enterprises accounted for 20.29 percent. The target areas were technology, media and telecommunications, agriculture and food, and energy and mineral resources. That is likely to remain the same this year, according to analysts.
Commerce Ministry spokesman Shen Danyang attributed the trend to government policies aimed at promoting collaboration between Chinese entities and international companies. Chinese investment in foreign manufacturing rose 87.8 percent year-on-year to 10.6 billion yuan in January, with much of the money flowing into the telecommunications, electronics, pharmaceuticals and motor vehicle sectors, Shen said.
And the data supporting the boom keep coming. Chinese investment in the United States rose to more than 10 billion yuan in January, nearly four times the amount in the same month last year, according to ministry data.