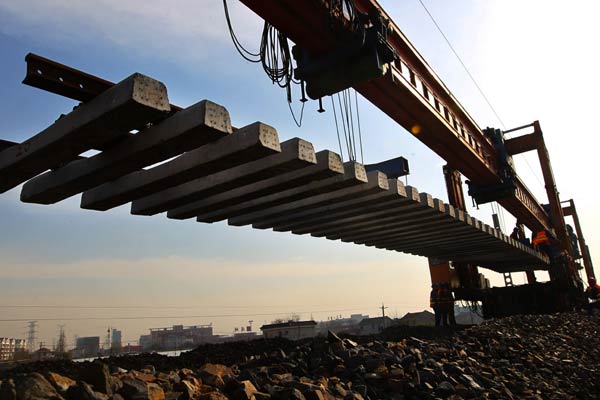 Rail tracks are laid on a route in Nantong, Jiangsu province. [Photo provided to chinadaily.com.cn]
BEIJING - China unveiled the draft outline of the 13th Five-Year Plan on national economy and social development on Saturday, expecting an average annual economic growth of above 6.5 percent from 2016 to 2020.
The 6.5-percent annual growth rate in a five-year period has been the lowest for over three decades. The draft will be submitted to the annual session of the National People's Congress for review.
China's gross domestic product will exceed 92.7 trillion yuan ($14.2 trillion) in 2020, compared with 67.7 trillion yuan ($10.4 trillion) in 2015, the draft said.
The country will implement the innovation-driven development strategy and promote science and technology innovation, mass innovation and entrepreneurship, with supporting reforms and policies, it said.
China will stick to and improve the basic economic system, push forward reforms of state-owned enterprises, support development of the non-pubic sector, further streamline administration, and accelerate reforms in financial, tax and financing systems, the draft said.
The draft also rolls out measures and reforms in fields ranging from agricultural modernization, manufacturing upgrades, pollution control to poverty reduction, energy conservation and opening up.
The country will advance the implementation of domestic regional coordinated development strategies and of the Belt and Road Initiative.