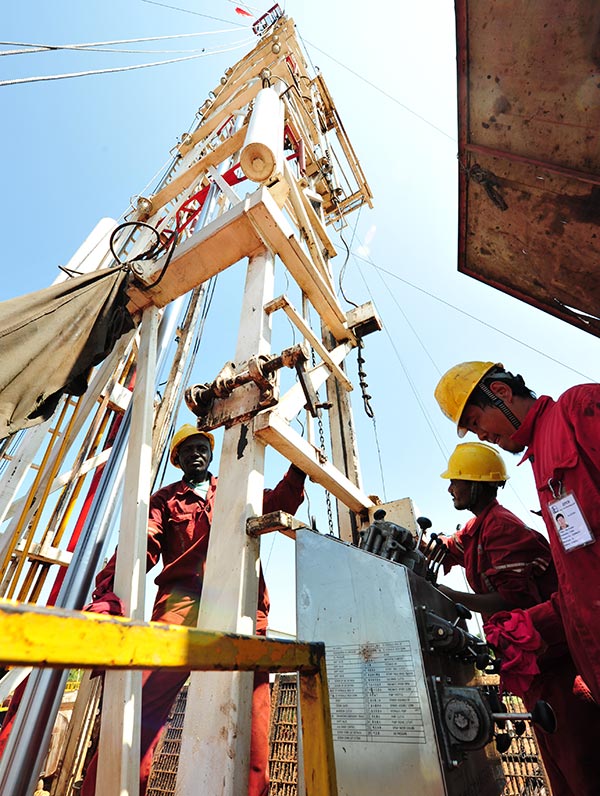 Sinopec Group's international team work on a drilling rig in Sudan.[TONG JIANG / FOR CHINA DAILY]
Experts say despite past irrational overseas investments, spending may well continue as good deals are still possible
The year-end retreat by China Investment Corp, the country's sovereign wealth fund, from Canada's mining and oil-and-gas sectors, has raised concerns that past overseas investments of State-backed oil companies may prove duds, due to the prolonged slump in crude oil prices.
After a string of bad investments overseas, CIC shifted its only office outside China from Toronto to New York at the end of 2015. The Toronto office used to manage CIC's investments in the energy sector. Since 2010, CIC invested about $1.9 billion in Canada's oil sands sector. Five years on, those investments are believed to have slipped into sharp losses.
China's State-backed oil giants, including China National Offshore Oil Corporation, the country's largest offshore oil and gas producer, and Sinopec Group, Asia's largest oil refiner, too, have a large presence in Canada. But, they are reportedly either scaling back their operations or putting new investments on hold.
Brion Energy, the Canadian unit of State-backed China National Petroleum Corp, also known as PetroChina, bought two oil sands projects in the MacKay River site and the Dover project for about $2.4 billion from Athabasca Oil Corp, a Canadian oil sands company.
PetroChina needed to make an additional investment of about $1 billion as a result of an 18-month delay in the first phase of the MacKay River oil sands project.
Chen Weidong, chief energy researcher of the CNOOC Energy Economics Institute, said high cost of early-stage exploration in unconventional fuels such as oil sands has contributed to the huge losses of Chinese companies' overseas assets.
"Oil sands projects are generally more difficult and expensive to extract than conventional drilling, as it involves a mixture of sand and clay. So when the crude price kept falling, the cost of this process began to take its toll," he said.
Late last year, a Toronto-Dominion Bank report said half of Canadian oil sands producers will be in deficit if the West Texas Intermediate, or WTI, a North American benchmark for crude oil price, kept falling under $44 a barrel.
"Investors in the oil and gas industry need long-term positive cash flow in order to keep a certain scale of investment," Chen said. "At current crude prices, even well-established oil sands projects are struggling to make money."
Other reasons include the misjudgment of the long-term trend of international crude prices and the government's push toward more energy resources in foreign countries, experts said.
"Oil, as a source of fuel, is considered as a scarce resource in China, which relies heavily on oil imports. For this reason, the country is pushing oil companies to embark on huge overseas expansion plans to secure more resources," said Zhao Hongtu, a research professor at the China Institute of Contemporary International Relations, a government-backed think tank.