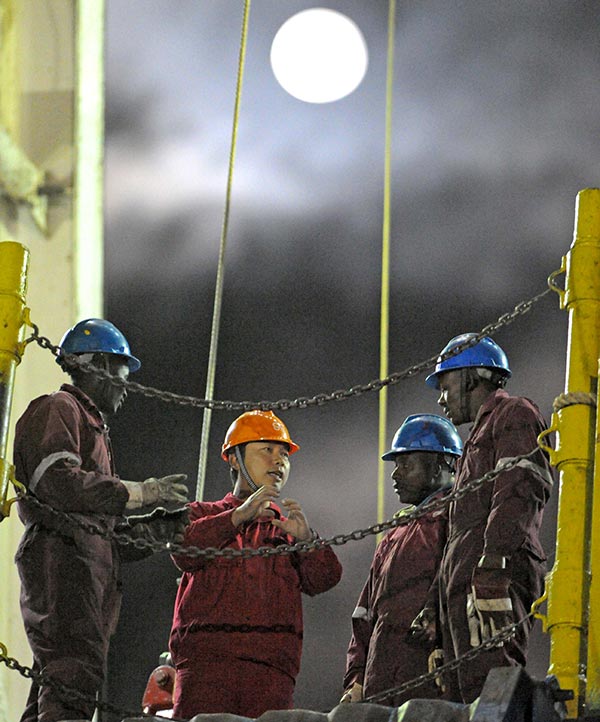 Workers from China Petrochemical Corporation with local partners work at an oilfield in Kenya during the Mid-Autumn Festival in 2011.[Photo/Xinhua]
Oilfield equipment manufacturers in China are a worried lot these days. They fear the continuing fall in crude oil prices, which started last year, may make things even more difficult this year.
"The crude price plunge in 2015 has affected the oilfield services sector. Another tough year looms as things aren't getting any better," said Li Yan, a crude oil analyst at Shandong Longzhong Information Technology Co.
"Oilfield services industry's profits depend highly on the crude exploration sector," Li said. "Sadly, nearly all the oil producers, including giants such as Royal Dutch Shell Plc, have cut investment in upstream exploration because of increasing deficits caused by the low crude prices."
Sinopec Oilfield Service Corp, a State-owned player, reported a loss of 2.06 billion yuan ($311 million) for the first three quarters in 2015, which it attributed to lower upstream investment.
Sichuan Renzhi Oilfield Technology Services Co Ltd, a private company headquartered in Mianyang, Sichuan province, reported a net loss of about 75 million yuan for the first nine months of last year.
In addition to the weak market, the company said fierce competition among the oilfield services companies also contributed to the declining revenue.
"The industrial shuffle is inevitable," Li said. "They need to find their clients with bigger efforts, better service and lower prices."
Some private companies have found a way out by expanding into new markets and changing their business strategy.
China's land drilling rig manufacturer Honghua Group Ltd reported last week that it has entered into an ultra-deep drilling rig sales agreement with Kuwait Drilling Company, with a total value of around $25 million.
"It is the first homemade ultra-deep drilling rig to enter the Kuwait market, which breaks the long-term monopoly of Western drilling rig manufacturers," said Zhang Mi, chairman of the Chengdu-based company.
He said the agreement will benefit Honghua in consolidating and increasing its market share in Kuwait as well as West Asia.
Yantai Jereh Oilfield Services Group Co Ltd in Shandong province started to invest in equipment for natural gas exploration sector, to cope with the falling crude prices.
Cheng Yongfeng, vice-president at Jereh, said the company will develop both crude and gas businesses and look for opportunities in new energy sectors.