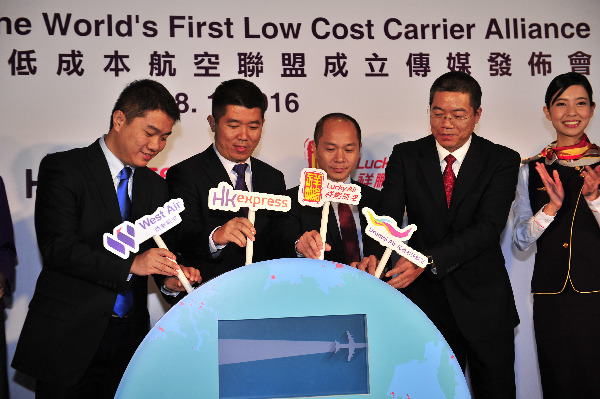 The launch ceremony of U-Fly Alliance, the world's first low-cost carrier alliance, in Hong Kong on Monday.[LIU RANYANG / FOR CHINA DAILY]
U-Fly Alliance, the world's first low-cost carrier alliance, was established by four Chinese low-cost airlines in Hong Kong on Monday.
HK Express based in Hong Kong, Lucky Air from Yunnan province, Urumqi Air from the Xinjiang Uygur autonomous region and West Air in Chongqing are the founding members of the new alliance.
The U-Fly Alliance covers 85 destinations in the Asia-Pacific region and plans to add more new members to expand its global network soon.
"Thanks to the cooperation of the low-fare carriers, we are able to connect travelers from Asia and China to an ever-increasing network of cities," said Andrew Cowen, CEO of HK Express and U-FLY Alliance.
As part of the U-Fly Alliance rollout, enhanced reservations and airport procedures to facilitate streamlined transfers across airlines will be put in place.
The low-cost carriers alliance will ensure a new era of travel that provides what travelers really want: Flexible and affordable routes that are also safe and secure, Cowen said.
With the alliance, passengers of West Air can buy tickets from the carrier and transfer to more destinations based on the alliance's network, said Zhu Tao, president of West Air.
To celebrate the alliance's establishment, it is offering 118 yuan ($17) fares on select routes from all the four airlines, which are sold from Monday to Thursday.
Airline alliances can help the members enter more markets and cut costs for network expansion, industry sources said.
Low-cost carriers have already been a major driving force for the global civil aviation industry's growth in the past 10 years, said Meng Lingru, an analyst from Shanxi Securities Co.
The market prospect of low-cost carriers in China is also promising, although they only have an 8 percent market share in China, while it is more than 27 percent globally, said Meng.