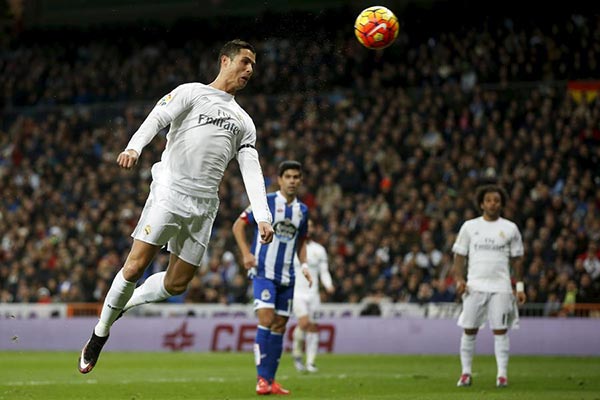 Real Madrid's Cristiano Ronaldo heads the ball.[Photo/Agencies]
Chinese soccer aficionados will have a better chance to see world-famous soccer players in the near future as Foyo Culture and Entertainment Co Ltd-a subsidiary of investment conglomerate Fosun International Ltd-has joined hands with the highly celebrated Portuguese footballers agency Gestifute.
Under the strategic partnership deal agreed on Monday, the two companies will roll out services including agent services for soccer players, operation of games, and agent services of soccer players' image rights. Soccer players will take part in a number of gatherings with their Chinese fans and also participate in a number of philanthropic activities.
Meanwhile, leading overseas players are likely to be introduced to China and vice versa. Soccer training organizations will be jointly established by Foyo and Gestifute in the hope of sending promising Chinese players to overseas clubs.
Founded in 1996, Gestifute has become one of the most renowned soccer player agencies in Europe, involving a number of high-profile players such as Cristiano Ronaldo, James Rodriguez and David de Gea. Its founder Jorge Mendes, 50, has won the Agent of the Year honor of the Globe Soccer Awards for six consecutive years since 2010.
Mendes said that there are a large number of young players around the age of 18 with great potential all over the world. While these young people are always looking for opportunities at this age, it is their job to provide them the right chance.
Wang Tao, producer of the soccer show Super Successor broadcast on Zhejiang TV, said that the Chinese soccer fans passion for leading overseas players is "beyond imagination". But the fact is they have very limited chances to see them. A friendly match each summer is the only chance they have got in China, but not many people are able to go there.
"They crave for opportunities to see their idols. The sad thing is that people can invest up to 300 million yuan ($45.6 million) in one TV entertainment show but are unwilling to invest much less in football-related shows, he said.