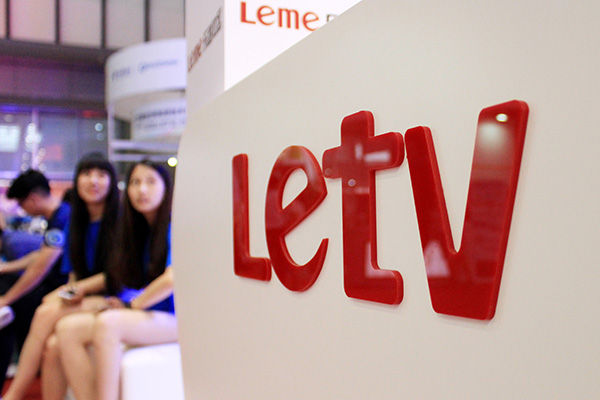 LeTV's logo is on display at a show. [File Photo/China Daily]
Internet company LeTV Holdings Co Ltd's appetite seems to have grown beyond smart televisions and video content services to professional soccer clubs.
The Beijing-based company, according to unconfirmed media reports, is believed to be keen on acquiring a stake in a professional soccer club-Beijing Guoan Football Club.
Earlier media reports had indicated that LeTV was in discussions with CITIC Group to acquire the latter's 50 percent stake in Beijing Guoan.
Lei Zhenjian, chief executive officer of LeTV Sports, however, said that the acquisition is yet to be firmed up even as Jia Yueting, the chairman and founder of LeTV, made a surprise visit to Guoan's home turf-the Beijing Worker's Stadium-recently.
Set up in 1992, Beijing Guoan Football Club is the only team which has not seen its owners change ever since China established the professional soccer league in 1993. It was also the first team to win the Chinese Football Association Cup three times.
CITIC agreed to transfer its 50 percent share in Beijing Guoan in late December on conditions that LeTV will not change the colors, name and logo of the team.
The estimated market value of Beijing Guoan is about 4 billion yuan ($613 million). That means, LeTV would have to shell out roughly 2 billion yuan for the 50 percent stake, said industry sources.
CITIC hopes that the soccer team will be crowned champion of the Chinese Football Association Super League within three years and be listed on National Equities Exchange and Quotations, like Guangzhou Evergrande Taobao Football Club which went public in November. LeTV, for its part, is believed to have expressed its willingness to be a part owner of the team.
LeTV has shown its interest in soccer earlier by acquiring a 20 percent stake in Singapore-headquartered World Sport Group in September to become one of the three major shareholders of the organization. World Sport Group holds the exclusive copyright and development rights for all games organized by the Asian Football Confederation.