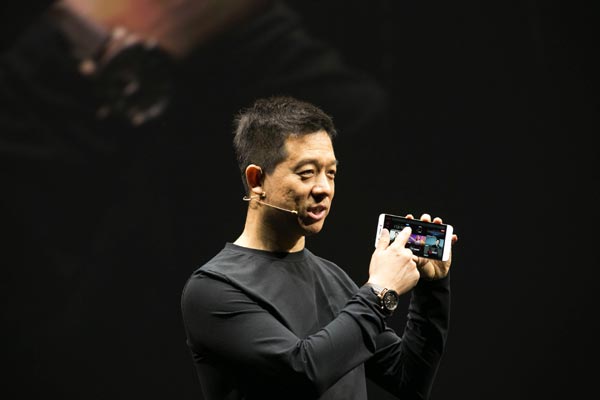 Jia Yueting, founder and chief executive of LeTV, shows the company's first smartphone at a news conference in Beijing in April, 2015. [Photo/China Daily]
LeTV Holdings Co Ltd, the ambitious Chinese online video streaming and hardware company, signed its largest international smartphones order on Friday, with Thailand's Win IPTV.
In a significant step for the firm's expansion into Southeast Asia, the companies said 1 million units of its high-end Android-based smartphone, Le Superphone, and 500,000 of its Le SuperTVs will be marketed in Thailand.
Win IPTV is the TV services offshoot of WinWin Net Corporation, which runs Thai broadband services and telecommunication networks. The firm also has more than 1,000 retail stores nationally.
Feng Xing, the president of LeTV mobile, said the new partners share a similar business philosophy based on a "content plus device" business model.
The early stages of the partnership will see both sides focusing on growing sales of the devices, but later that will evolve into content and services cooperation, in what Feng described as an energetic market with huge potential.
"The Thai government is growing its investment in 4G and optical networks, to improve the country's telecommunication infrastructure and the level of its information technology, which presents opportunities for LeTV.
Feng also said that with a 70 million population, Thailand plays a crucial role in the wider Southeast Asian market, and that winning market share there will pave the way for LeTV to expand regionally.
Sitichai Nuanmanee, WinWin's CEO, said linking with the Chinese firm would help it widen its sales of smartphones and smart TVs. "We also look forward to bringing more Thai entertainment programs, like TV dramas and movies, into the Chinese market, and help Chinese audiences understand more about Thai culture."