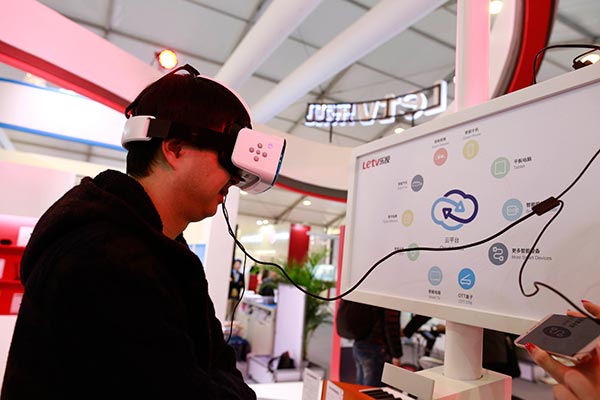 A visitor tries LeTV's newly developed virtual reality goggles at an expo.[ZHU XINGXIN / CHINA DAILY]
Tech firm launches virtual reality goggles with an eye on growth in booming sector
Chinese tech company LeTV Holdings Co Ltd launched its first virtual reality goggles on Wednesday, as it seeks to edge out rivals in a quickly growing sector that may be as big as the smartphone market.
Clamping a smartphone in front of a pair of lenses, the inexpensive Cool 1 reflects images to user's eyes to create a 360-degree digital environment. The goggles are priced at 149 yuan ($23), and are currently only compatible with LeTV's own smartphones.
Ablikim Ablimit, LeTV's strategic vice-president, said the company is investing in VR development and will try to include more partners to make hardware and video content.
"We will focus on integrating the industry's resources so our partners will be able to make a profit on our platform," he said, without revealing the volume of the investment.
LeTV said it is also working to bring the VR movies, video games, education and sports broadcasting services to its users in the coming years.
The VR market is poised to see a fight among tech titans in 2016 as global Internet majors set foot in the sector.
Facebook Inc purchased VR firm Oculus for $2 billion while Google Inc invested $542 million in another startup Magic Leap. Microsoft Corp is developing its own HoloLens products.
Chinese companies also want a share of the market. Less than a day before the Cool 1 launch, Internet giant Tencent Holdings Ltd announced it will enter VR market by launching its own devices and software products. Shenzhen-based Tencent, owner of the biggest mobile messaging network and a top online games producer, has not released any hardware devices yet.
Next year will also see some smartphone makers producing VR devices. HTC Corp, which saw smartphone sales slump amid a shipment slowdown in key economies such as China, is betting on VR goggles to save its business.