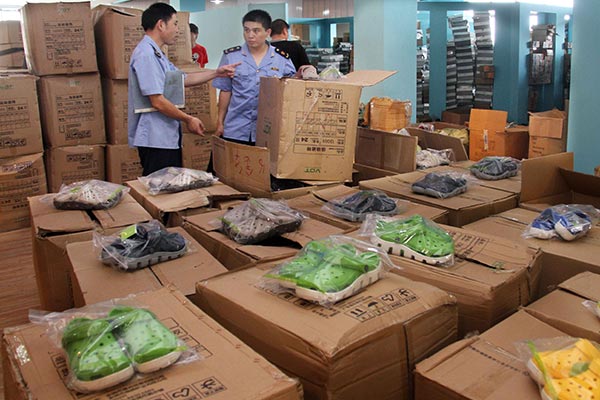 Law enforcement officers seal the warehouse of a trader unit selling counterfeit shoes online in Jinhua, Zhejiang province. [GE YUEJIN / FOR CHINA DAILY]
About a year ago, a fabulous Gucci purse caught my eye. It was a limited edition with the iconic pink heart-shaped logo. I was in love.
Because it was a limited edition, there was no way for me to find it in Gucci's bricks-and-mortar stores in Beijing. So I turned to Taobao, the online everything store in China, for help.
I successfully found an overseas shopping agent in the United States online and got my beloved purse from across the seas.
But after I got the purse, I had some concerns about whether or not the precious thing that I had spent thousands of yuan on was the genuine one. After all, it is no longer news that fake products are sold on Taobao.
This kind of concern is probably one of the factors that has dragged down the growth of sales on Taobao.
Accusations of selling fake and sham goods have been dogging Taobao ever since it was founded by e-commerce giant Alibaba Group Holding Ltd in 2003. But as an online shopper, I never think it is Jack Ma, the executive chairman of Alibaba, who should shoulder the sole responsibility for that.
So when I read a story published by Forbes magazine in early December, I could only imagine the reason that people blame Ma for tolerating fake goods was probably because of what was said in the Spiderman movie, "great power comes with great responsibility".
The story, headlined "Alibaba and the 40,000 thieves", argued that rather than big brands, the Chinese government and US pressure, it is Ma, who is in charge of the world's largest online retailer, who has the real power to crack down on the counterfeit and sham goods on Alibaba's platforms.
The story said that "shutting down the fakes would undermine his Alibaba empire", hinting that Ma is reluctant to take up the cudgels against fake goods.
I don't want to argue whether or not Ma is taking a strong enough stand on fighting fake products.
But what I want to say is that Ma is no superhero. Fighting against fakes certainly requires teamwork not only from retailers, but also regulators, producers and brands.
As the largest customer-to-customer site in China, Taobao provides a virtual marketplace that lowers the threshold for setting up a business. Any Chinese citizen with an ID is able to set up a store on Taobao, and it is free of charge.
This low threshold is creating an online marketplace with millions of vendors selling all kinds of products and services, generating more than 1 trillion yuan ($154.8 billion) in annual transactions.
But the downside is that it is extremely difficult to crack down on fake goods online because once you shut down one online shop, a new one can be registered in no time by simply using another ID.
As an e-commerce analyst told me, Alibaba is no regulator, it can shut down as many online shops as possible, but it cannot stop them from manufacturing fake products.
As China's economy goes through the transition to being more consumer-driven, the government is pinning its hopes on online shopping being an engine of economic growth. The number of e-commerce platforms and cross-border sites have been mushrooming in China.
To make things really work, it is high time for every party to work together to create synergy in the crackdown on fake goods online, rather than point fingers at each other.
Statistics from the Ministry of Commerce showed that Chinese outbound travelers spent more than 1 trillion yuan overseas in 2014. I don't know how much of the money spent overseas rather than on online channels is simply because it is more reassuring to make big-ticket purchases in person. But for me, owning one "ambiguous" Gucci purse is enough.