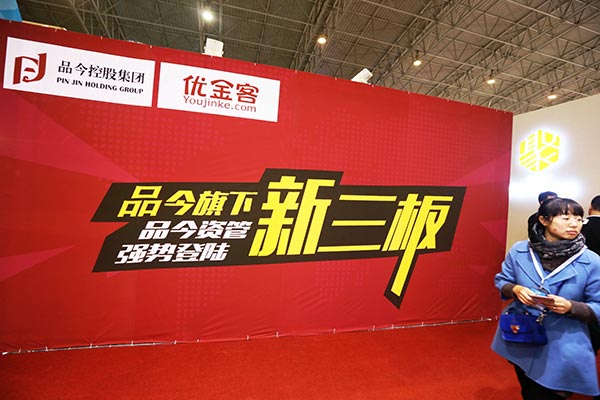 The booth of a private equity firm at the recent China International Internet+ Finance Expo in Beijing.[A JING / FOR CHINA DAILY]

Market regulator concerned about overheating, excess valuations on China's New Third Board
China's securities regulator has halted fundraising by private equity companies on the country's new share-transfer system, underscoring increased concerns over an overheating market and the amount of capital the companies have been raising, according to industry sources.
PE firms will not be able to list their shares on the National Equities Exchange and Quotations, better known as the New Third Board-a share trading system for small and startup firms-PE sources told China Daily on Wednesday.
Analysts said the move, by the China Securities Regulatory Commission indicated a significant tightening of PE firms' capital-raising activities and the regulator's desire to curb liquidity drain and speculative investment in the market.
Some suggest the NEEQ market has become too easy a platform for PE firms to expand their capital base.
According to estimates, 12 private-equity companies have raised about 30 billion yuan ($4.6 billion) since the beginning of this year using the market, accounting for nearly 30 percent of total capital raised on the NEEQ over the past 11 months.
In total, 16 PE firms have listed in the NEEQ market and there are about 30 awaiting regulatory approval.
Chinese PE firms are increasingly being viewed as over-priced, and some experts have suggested they have been turning to the NEEQ market simply to raise cash for their clients and partners.
The market value of JD Capital Co Ltd, for instance, which listed on the NEEQ market last year, has reached 100 billion yuan, roughly on par with United States investment powerhouse Blackstone Group LP.
"It seems the regulator is concerned about the overheated market and the potential risks being created by the excess valuations of firms," said a senior executive of a Zhejiang-based PE firm on condition of anonymity.
"In the short term, the regulator's move could have a negative effect on the industry as it disrupts the fundraising plans of many PE firms."
Some firms are believed to have been using the proceeds raised from the NEEQ market to speculate on the stock market, which analysts consider very much against the government's main intention for the market.
"The NEEQ market is supposed to be a financing platform for high-tech and innovative startups. The regulator may not be happy to see so much capital being raised by PE firms," said Che Jian, an executive at a Shanghai-based investment firm LightHouse Capital Co Ltd.
Shi Yun, chairman of Beijing-based PE firm Nature Capital Co Ltd, said he would consider the halting of fundraising by PE firms a temporary measure, and that the NEEQ market is likely to remain a major source of capital for PE in the future.