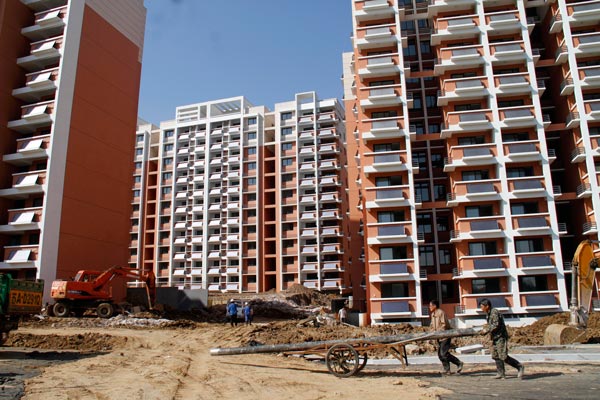 A property construction site in Nanjing, capital of Jiangsu province. [Photo provided to China Daily]
Securities regulators have increased their scrutiny of certain private equity funds as the government moves to lessen systemic risks arising from the weakening property market.
Recent investigations involved nine PE funds in the real estate industry and more than 100 PE products with a total value exceeding 30 billion yuan ($4.8 billion), Deng Ge, a spokesman for the China Securities Regulatory Commission, said on Friday.
The main irregularities included violation of the legal cap on the number of investors in a single fund, inadequate disclosure, weak measures to address possible conflicts of interest and inadequate internal controls, Deng told a news conference.
"The CSRC will increase inspection and punishment for illegal conduct by PE fund managers ... to prevent systemic risks and protect investors' interest," Deng said.
The agency issued warnings to three PE funds, including the Beijing-based Permanent Fund, and ordered them to correct their deficiencies within a certain period. Six other funds were put under special regulatory scrutiny and told to improve their internal management, according to the CSRC.
The Shanghai Composite Index slid 1.93 percent on Friday to 3,075.91 points. Property shares declined 3.02 percent.
Analysts have warned that with the real estate market weakening in terms of price and volume since the start of last year, property-based PE funds face higher risk of investors cashing out.
Regulators suspended initial public offerings by developers in 2013, which contributed to a substantial expansion of PE funds, an alternative channel for property firms to raise capital.
Some analysts have said that the expansion of property-related PE funds is set to slow after years of explosive growth, with average annual rates of investment return reaching as high as 25 percent.
The domestic PE sector posted record growth last year with total investments reaching 73.2 billion yuan, more than double the amount of the previous year, according to PricewaterhouseCoopers.
The rapid expansion of Chinese PE funds was even more dramatic when compared with the 10 percent increase of PE investment at the global level.
A total of 593 deals were made by PE funds in 2014, up 51 percent year-on-year, PwC said.