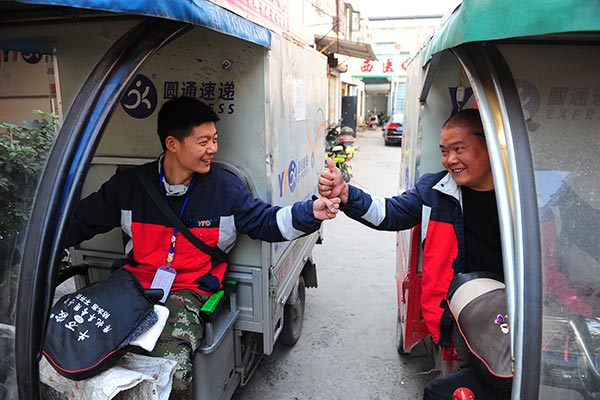 Two YTO Express couriers cheer each other up before they go to work in Fuyang, Anhui province.[WANG BIAO / FOR CHINA DAILY]

Company considering reverse merger with top garment manufacturer Dalian Dayang Trands
Shanghai YTO Express (Logistics) Co Ltd, one of China's largest express delivery firms, is planning to be listed through a reverse merger with Dalian Dayang Trands Co Ltd, the top garment maker.
In a statement released on Friday evening, Shanghai-listed Dayang Trands said it had reached initial agreement with YTO Express for a restructuring in which it will buy the delivery firm through the issuing of shares, as well as debt.
YTO Express will eventually be owned by a new company, which will become a subsidiary of Dayang Trands, it said.
A manager at the Shanghai courier's marketing department, who refused to be named, said YTO Express "is set to become a public company", although he refused to disclose any further details before the listing.
YTO Express' Chairman Yu Weijiao first revealed to China Daily in October that he planned to take the firm public, without giving a timetable.
Other companies from the sector have already made the move.
STO Express Co Ltd listed on the A-share market in October through a reverse merger with IDC Fluid Control Co Ltd, a faucets and bathroom accessories manufacturer, becoming the nation's first listed express delivery operation.
Founded in 1979, Dalian-headquartered Dayang Trands is engaged in the production and sales of mid- to high-end suits.
Listed on the Shanghai Stock Exchange in 2000, it exported 6 million suits last year, and is believed to include billionaires such as Warren Buffett and Bill Gates among its customers.
It suspended trading in its shares on Jan 12.
It had been widely rumored YTO Express was looking to float, since May 2015 when Alibaba Group Holding Ltd announced a strategic investment in the firm, in partnership with Yunfeng Capital, a fund backed by Alibaba founder Jack Ma.
In September, it bought 15 cargo aircraft from Boeing Co and after completing the stake sale in October, Alibaba took two seats on its board.
Zhao Xiaomin, an expert on the express delivery industry, was quoted by Beijing Business Today as saying on Monday: "This year and next will be an important period for express delivery companies to be listed, and any that don't grasp the opportunity might be knocked out."
According to the State Post Bureau, 27.5 billion packages are expected to be delivered across China this year, a 34 percent rise, but down on the 48 percent growth in 2015.
Zhao said that as express-delivery growth slows, excess industry capacity might appear, and so seeking a stock market listing soon might help companies obtain a higher valuation as competition intensifies.
Best Logistics Technology Co Ltd, another express delivery company, is also looking at fundraising via an IPO, worth about $700 million.
Wang Ying contributed to this story.